Rangers: SPFL criticise Dave King for making 'allegations' public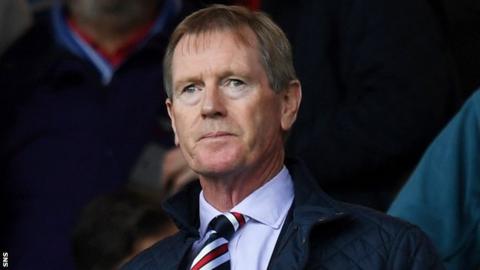 The SPFL have criticised Rangers chairman Dave King for making "allegations" about chairman Murdoch MacLennan through the media.
They say there is "no evidence" of a business relationship between MacLennan and any SPFL club.
King had re-iterated his demand for the suspension of MacLennan on Wednesday.
Rangers also demanded an "independent investigation into the relationship of its (the SPFL) chairman to major shareholders in Celtic FC".
Ibrox chairman King made his initial call for an investigation on Tuesday after reports emerged that MacLennan had business links with Celtic majority shareholder Dermot Desmond.
MacLennan is a recent appointment as non-executive chairman of Irish-based Independent News & Media Group (INM), where Desmond is a major shareholder.
The SPFL insisted that MacLennan informed its board of his new role before taking up the offer and denied claims there was a conflict of interest.
However, King issued another statement where he said: "Any organisation that has behaved properly would welcome an independent and transparent review."
An SPFL spokesman responded, saying MacLennan has "behaved impeccably".
The statement said: "Rather than attempt to communicate through the media, it is far more appropriate that any substantive issues are presented to the SPFL board for careful and detailed consideration, based on a sound legal analysis of the facts.
"To date, there has been no such representations to the SPFL board and it notes Mr King's statement of 30 May.
"In its statement of 29 May, Rangers FC claimed "a business relationship", existed between the SPFL chairman and minority shareholders in a SPFL club, despite no evidence of such a relationship being presented. There is no mention of the previously claimed "business relationship" in the 30 May statement.
"In the 30 May statement the central allegation has now become that "there was non-disclosure of the conflict that immediately arose when the SPFL chairman accepted" his appointment as a non-executive director of International News & Media PLC ("IN&M plc"). As with the 29 May statement, no detail was provided to support this allegation.
"Within the space of about 24 hours two different and very public allegations have been made against the SPFL chairman without, in either case, an approach first being made to the SPFL with concerns or seeking clarification."