Gregor Buchanan's 'fairytale story' of double promotion after sister's illness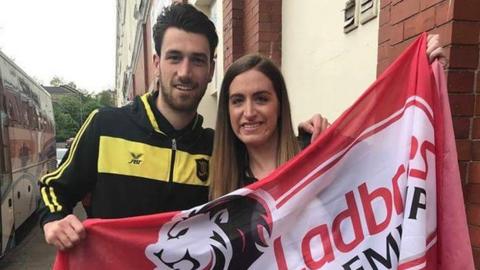 Gregor Buchanan describes the football season in which he achieved a rare double promotion as a fairytale - but it was one attained against a background of family heartache.
The 28-year-old central defender helped St Mirren establish a lead in the first half of the season that lay the foundation for Scottish Championship title glory.
Having moved to title rivals Livingston in January, the second half of the campaign was dominated by family concerns as his sister Christie battled to recover from a stroke.
However, the season ended with the pair reunited in celebration at Firhill for the Premiership play-off final win over Partick Thistle.
"It's been a bit of a surreal season," Buchanan told BBC Scotland. "At the start, I was with St Mirren and I had high hopes that I was going to win promotion with them.
"Obviously I was delighted, in the end, that both teams went up. I don't think that has ever been achieved before.
"Just before the play-offs, I was getting messages saying I would be a pub quiz question pretty soon if I managed to do it."
Having been a regular starter at the beginning of the campaign, Buchanan had decided to switch to St Mirren's title rivals after finding himself relegated to the bench for the latter of the 16 appearances that qualify him for a Championship medal.
But two games into his Livi career came the news that his sister was fighting for her life in hospital.
"That first week was one of massive uncertainty," he recalled. "She had moved through different hospitals and the manager had said to take as much time as I wanted.
"But my family and my girlfriend pushed me towards not doing that and it probably ended up being the right decision.
"Even though the manager kept me included in squads and I was on the bench for a few games, I know now he was never going to put me on."
'My head probably wasn't right'
"He didn't let me sit at the side thinking about what was going on but kept me involved in the football," Buchanan continued.
"Even though I thought at the time I should have been playing, it was probably the right decision for me not to be because my head wasn't right.
"I knew I would be needed later in the season and that ended up being the case."
Buchanan had played 11 times for Livi by the time they sealed their return to the Premiership and, in addition to manager David Hopkin, his team-mates and family, the defender thanked John Hartson for the role he played in pulling him through such difficult times.
The former Celtic and Wales striker, who coaches at the Tony Macaroni Arena, has had his own well publicised battle to overcome testicular cancer.
"The first day I went back in, he pulled me to the side right away and was brilliant with me," Buchanan said.
"He started talking about what he had gone through and said these things happen and 'if I'm still here, there's hope for everybody'.
"It was a massive weight off my shoulders at the time."
Buchanan came off the bench as Livi completed their 3-1 aggregate win over Thistle and the family joy was magnified by 30-year-old Christie having recovered sufficiently to make a return to the stands to share in the celebrations.
"We had said a few weeks earlier that she probably wouldn't be back this season, but when it was such a special occasion, the family agreed that she would get the opportunity to go and she loved every minute of it," he said.
"A few months ago, she might not have been here at all and it was nice for her to get along and enjoy the game."
Now Buchanan faces new uncertainty with manager Hopkin having rejected a contract extension with English clubs, including Bradford City, among the potential suitors.
"All the players that were there were offered new contracts, so we're just waiting to see what happens there because, with the manager having been touted for a lot of jobs, I think they've had to get that sorted first," he revealed.
"I've had a few offers from Championship teams, but I wanted to first and foremost speak to Livingston and see where we can go from there."
Buchanan was a late starter in senior football having had spells with junior clubs Armadale Thistle and Bathgate Thistle after being released by Falkirk as a 16-year-old.
He got his chance again with Airdrieonians in 2012 and moved on to Dunfermline Athletic and Dumbarton before joining St Mirren last summer.
Having supplemented his income selling insurance while part-time before joining the Buddies, Buchanan is not only keen to remain full-time but grasp the belated opportunity to grace the top flight.
"With my age and the way my career went, if you told me five or six years ago I would have the chance to play in the Premiership, I would have bitten your hand off and probably thought that would never happen," he admitted.
A ball-playing central defender in a similar mould to his father Gordon, who played for Coventry City, Falkirk and Stenhousemuir, Buchanan thinks it would be an arena that would suit his game.
"The lower the league, the more frantic and 100-miles-an-hour it is and hopefully in the Premiership, like the top of the Championship, you do get a bit more time on the ball," he added.
"If I get the opportunity to play in the Premiership, I would love to take it.
"I took a major risk by going down the junior route and thankfully it's paid off because, after three years in the juniors, I got into a senior team.
"I've been very lucky that I've played more than 200 games since and featured in the majority of games every season.
"It's a dream come true and a bit of a fairytale story."