Dave King calls for SPFL chairman Murdoch MacLennan's suspension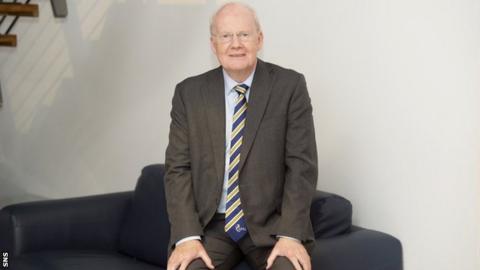 Rangers chairman Dave King has called for Scottish Professional Football League chairman Murdoch MacLennan to be suspended and for an alleged conflict of interest to be investigated.
A newspaper report said MacLennan has business links to Celtic shareholders.
Scottish football's credibility "in the minds of supporters and sponsors is at stake and urgent action is required", according to King.
However, the SPFL said: "No investigation is warranted."
King last week called for Scottish FA director Gary Hughes to be suspended as the SFA reviewed claims that he previously made derogatory remarks about Rangers supporters.
"Transparency will be key to recovering the confidence of key stakeholders in Scottish football and this cannot be achieved if the SFA and/or the SPFL conduct internal investigations," said King.
"The SPFL and SFA must now appoint independent investigators. Scottish football is an important national asset and must have levels of probity and governance that are beyond reproach and that are transparently so."
The SPFL responded: "It's not surprising that Murdoch, having stepped down as deputy chairman of Telegraph Media Group, should be approached by other businesses in that sector.
"The members of the SPFL board were each informed of Murdoch's appointment on January 19 2018, the same day it was publicly announced in a press release from Independent News & Media PLC. That release was also circulated to the entire SPFL board that day.
"The appointment was widely reported in the national media at the time, including in the Sunday Times, Belfast Telegraph and Sunday Independent. No director raised this issue subsequently and it was not the subject of any board discussions.
"To be definitive, a non-executive position on a PLC does not constitute a business relationship between that individual and a minority shareholder in the company and therefore no investigation is warranted."