Blackburn and Scotland's Charlie Mulgrew eyes career until 40 with plant-based diet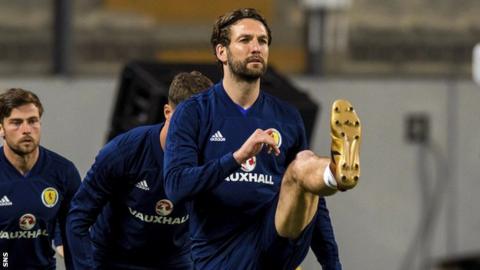 International friendly: Peru v Scotland
Venue: Estadio Nacional de Lima, Peru Date: Wednesday, 30 May Kick-off: 02:00 BST
Coverage: Watch on BBC One Scotland; text commentary and streamed live (UK only) on the BBC Sport website
Blackburn Rovers and Scotland's Charlie Mulgrew has adopted a mostly vegan diet in a bid to play on until he is 40.
The 32-year-old defender is likely to be named captain again as the national side face Peru on Tuesday night.
"My body fat has gone down and I feel fitter," he said of his change to plant-based eating. "I feel good.
"I watched a documentary on Netflix, I liked it, I did a bit of research and it is getting bigger and bigger and it is going to be massive soon."
Mulgrew, who captained Rovers to promotion from League One this season, is poised to earn his 35th cap when the Scots play their friendly in Lima.
And he expressed his determination to follow the example of former Celtic and Scotland manager Gordon Strachan by playing on until he is 40.
"That's the figure I have got in my head," Mulgrew said as he spoke enthusiastically about his change in diet. "I would like to play until then, at least.
"It is something I would like to do and, the way life expectancy is going, it could definitely be something in the future for a lot of players.
"Gordon Strachan took two bananas every day and that is something that sticks in my mind as well.
"He has an influence in that type of thing. He played for a long time and I had a chat with him before and he is someone I look up to."
Formula One world champion Lewis Hamilton recently announced he was switching to a vegan diet, while snooker's Neil Robertson and Peter Ebdon have also espoused the lifestyle and tennis sisters Serena and Venus Williams are joined by a growing number of ultra runners, bodybuilders and boxers who have been switching to plant-based diets.
Mulgrew admitted that he would have thought the change he made 11 months ago impossible "even three years ago".
"It is difficult at first to make different types of meals - you are used to meat and vegetables and potatoes and pasta or whatever," he said.
"I needed to get used to cooking all different things, replacing meat with veg, but once you get into it, there is really nice stuff you can eat.
"I'm not going to start preaching about not eating meat or dairy - I could be back on the meat this time next year - but it's something I am enjoying."
Scott Brown stood down as national captain and ended his Scotland career after the failure to qualify for this summer's World Cup, with the midfielder citing his desire to prolong his club career.
Mulgrew, who made his Scotland debut against Slovenia in 2012, is the same age as the Celtic captain but has no thoughts yet of calling time on his international outings.
"You are a long time retired," he added. "I don't want to look back at 50 and say, 'I should have just gone to Peru and Mexico, I would love a trip there with the national team now'.
"It is a great honour and I am delighted to to be here."