Graham Potter: Are Swansea taking step back to move forward?
By Chris Wathan
BBC Sport Wales
Last updated on .From the section Swansea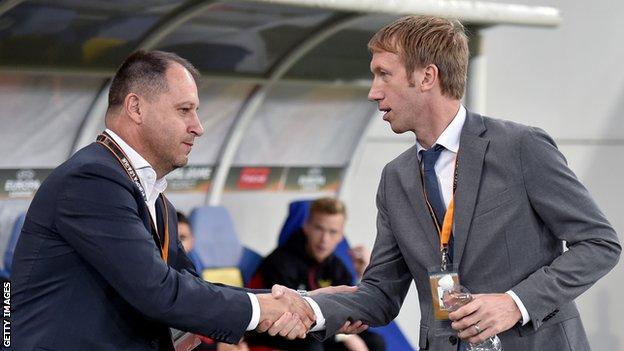 When you've found yourself lost, it's often best to retrace your steps.
In turning to Graham Potter, recently relegated Swansea City seem to have done just that.
"There has been something that has gone missing with Swansea," says Swedish football writer Noa Bachner who works for the Expressen newspaper.
"Graham Potter is probably a step back to what made that success in terms of how he wants his side to play. All the right noises come out of this appointment."
With Swansea in need of rebuilding and a route map out of the Championship - as well as back to the 'Swansea way' of playing - some will question whether a manager from a small-town club in northern Sweden is the answer.
But not to those who have observed the 43-year-old's work in guiding Ostersunds FK from the regional tiers in Sweden to the top-flight Allsvenskan via three promotions, throwing in last season's Swedish Cup for good measure.
It isn't just what Potter has managed since January 2011. It is the manner in which he has done it that impresses - expansive, possession-based football with a tactical flexibility are how his teams are described. It was once how Swansea were described.
A former Birmingham City and Stoke City defender with many lower-league clubs to his name, Potter had a decent if unspectacular playing career.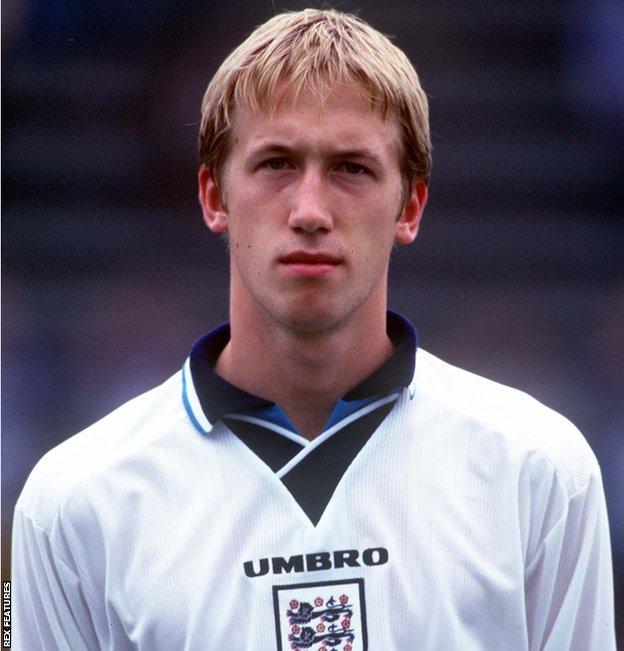 But his remarkable coaching achievements were given wider recognition when Ostersund drew Arsenal in last season's Europa League, winning 2-1 at the Emirates but going out 4-2 on aggregate in the round of 32.
Yet there were other results and performances of the run which really stood out.
Galatasaray's fans - they of the 'Welcome to Hell' notoriety - applauded the minnows off the pitch when Ostersund knocked out the Turkish giants in the second qualifying round.
The Swedish side impressed again in the group stage in a 2-2 draw against Athletic Bilbao, when Ostersund were denied victory against the Spaniards by a last-minute equaliser.
"They hammered them with an expansive playing model based on keeping the ball," recalls Bachner.
"In their European games they could change formations during games, there was a tactical intelligence throughout the campaign. They didn't play like an underdog even against some of the big teams in Europe."
Martinez disciple?
For Swansea, it should be a reminder of better days - and there's a reason for that resonance.
Ostersund became something of a sister club to Swansea 10 or so years ago through a friendship between Graeme Jones, assistant to then manager Roberto Martinez, and the Swedish club's chairman Daniel Kindberg. Jones also had a friendship with Potter from their days together at Boston United.
Having retired as a player at 31, disillusioned with some of the coaching and vision of the game - especially away from the top flight - Potter sought education. He embarked on a coaching career of his own and often visited Swansea to witness Martinez plotting the first steps of the 'Swansea way'.
Potter was offered a role in Swansea's youth set-up but opted to take the Ostersund challenge when recommended for the job by Jones. He has not looked back.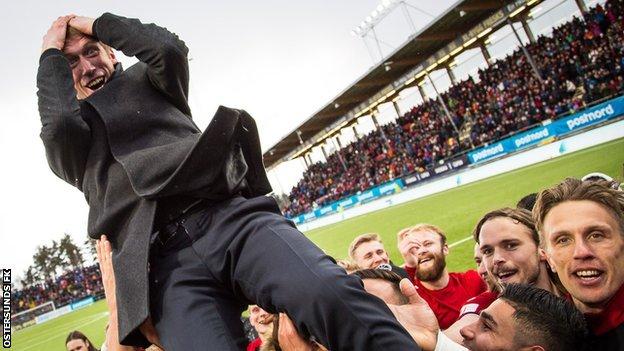 "He's a first-class manager," says Michael Jolley, the Grimsby boss and former Burnley academy coach who managed in the Allsvenskan with Eskilstuna last season. "He's made a great success of that job.
"He's developed a team but he's developed individual players as well to a point a lot of clubs around Europe are looking at Ostersund players.
"He's a smart guy, he knows what he's doing, has a clear idea of how he likes the game played and I'm sure it's a good fit for Swansea because they are also known for wanting to play football in a certain way."
Potter does things an unconventional way. Much has been made of the 'cultural academy' he brought in at Ostersund, which sees players sing, dance and act in front of an audience in an attempt to boost their performance ability, or reach out to the community in other ways.
Quite whether the man who holds a Masters degree in Emotional Intelligence will be able to transfer all his methods from Scandinavia to south Wales remains to be seen.
Banishing blame game
But he is also big on ridding sides of blame culture, much needed at a team who have forgotten what it means to be brave in the way they play.
Furthermore, he and his backroom team - recruitment analyst Kyle Macaulay and assistant Billy Reid, both of whom will join Potter at the Liberty Stadium - developed a reputation of picking up players seemingly off course for the top and either reinventing or reinvigorating them. Another Swansea trait that has gone missing.
Indeed, it appears that Swansea have known for some time they needed to go back to the type of manager prepared to be different.
Potter has been considered for the job at the Liberty since 2015, but the scramble to survive and the unforgiving spotlight of the Premier League dissuaded them along with others thought to have been interested - such as former clubs Stoke and West Brom - at one point or another.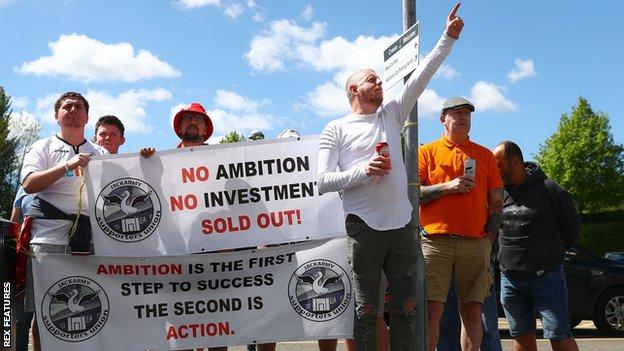 "The risk of losing out on Premier League prize money has created an ecosystem of low-risk appointments where development is set aside for the short-term," says Bachner.
"What Graham Potter did at Ostersund was build a side without the pressure of instant results and that created something much more powerful in the long term.
"Perhaps it is necessary for teams to drop out of the Premier League to go through such a process. It's probably quite logical they've turned to him now and may also serve as a blessing if they can afford - and are willing - to give him time."
Though there is an obvious wish for an immediate return to the Premier League, the relative lack of debt at the club compared to others, coupled with the parachute payments for relegated clubs - which should see Swansea get at least £40m next season, with further payments on a reducing scale for another two - means the financial pressure is eased.
So Swansea seem to have grabbed the chance to stop thinking short term after several seasons of scrambling just to survive.
They have gone with a man who might be a step back, but could be the progressive thinker to move Swansea back on their way again.