World Cup 2018: Gary Cahill feels experience can help determined England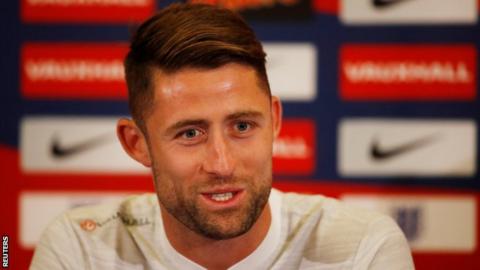 Gary Cahill says he is "desperate to make the nation proud" and feels England have grown in experience for the World Cup.
The Chelsea centre-back is the most-capped player in Gareth Southgate's squad - the third-youngest group to represent England at a World Cup.
But Cahill feels domestic success such as Liverpool's Champions League run and Manchester City's league form are key.
"There's more experience in bigger games," said Cahill, 32.
"All of this adds being to handle the pressures there will be in the World Cup. It feels as if there is more experience, even though it's a young group."
'Fans and players - let's be positive'
England play friendlies against Nigeria at Wembley on Saturday and Costa Rica at Elland Road five days later, their final fixtures before the World Cup starts on 14 June.
Cahill is the only player in Southgate's squad with more than 40 international appearances - and the average number of caps in the group is 19.5.
Southgate has pointed to being "fearless" in how he wants to play and "brave" in picking players who can be free of "inhibition".
But no England player in the squad has won a World Cup fixture as they prepare for group games against Tunisia on 18 June, Panama on 24 June and Belgium four days later.
"In the time I have been with England, in the qualification and the friendlies, we have been fine, and then the tournament comes, which has proved to be difficult for whatever reason," added Cahill.
"I'm just going there personally in such a positive frame of mind and no nerves, just excitement to go over there.
"I'm desperate for it to be a success and to try to make the nation proud - and to come back having had a good experience in a tournament, which is something I've missed in my career."
Cahill played when England were knocked out by Iceland at Euro 2016 and feels the nature of such disappointment is valuable experience in creating determination.
He added: "We can't harp on about the past. We're looking to the future and we're going into this tournament with a positive frame of mind.
"I think that's the key for everybody - to go in with a more positive attitude and we'll see how far we can go."
Fear of a bad voicemail
Cahill, who has 58 caps for his country, missed a phone call from Southgate to tell him he was part of the squad for the tournament and instead found out via voicemail,
"I missed the call - he left a voicemail just to say it's not always bad news when the England manager phones up," said Cahill.
"I thought potentially it could be bad news because in my experience of being involved with England for seven or eight years, you usually don't get the call. You just receive the information that you're going to meet up and what times.
"So to get the call a different way, I'd be lying if I said I wasn't a little bit nervous when I was listening to it but I was delighted to be involved in another tournament for my country."
Cahill admits he had to "dig deep" to get back into the set-up, having not played for England since October 2017 and briefly losing his place at Chelsea in early March.
His omission in club fixtures against Manchester United and Manchester City coincided with Southgate leaving him out of the national squad for friendlies later in the month.
He added: "I felt like [my World Cup chances] had taken a knock, missing out on that squad, especially that last squad just before you meet up. It was kind of a big squad to miss out on.
"I realised I really had to dig deep to try to perform from there until the end of the season to get myself back in the frame."
Southgate the man manager
Tottenham midfielder Eric Dier, who played for England's Under-21s when Southgate was in charge, said the manager has not changed since he was appointed in November 2016.
"He's a really good man manager," Dier said. "One of his best attributes is his communication, with the group as a whole and individually.
"Every player knows where they stand with him and he's not afraid to make big decisions and tell the players as well.
"I don't think he's changed too much, which is a credit to him. He's the same from when he coached me at the Under-21s. I think he's taken everything in his stride."