Premier League: Sale of two domestic packages imminent - Richard Scudamore
Last updated on .From the section Premier League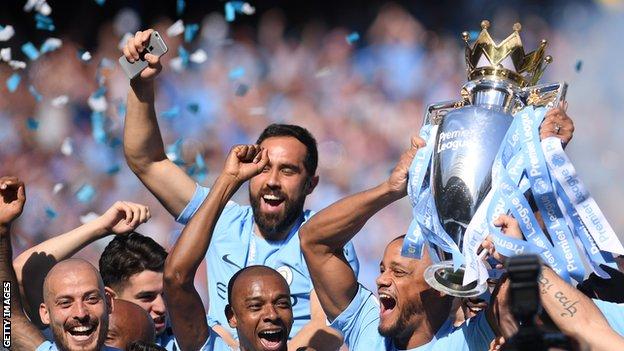 The sale of the remaining two domestic top-flight packages from 2019-2022 is imminent, says Premier League executive chairman Richard Scudamore.
"We are in the process of selling them," Scudamore told BBC Radio 5 live's Sportsweek.
"We have got different things we can do and we are investigating all of those."
He added: "It is imminent. It won't be long."
Sky won the rights to four of the five packages, which amounts to 128 matches sold so far, with BT acquiring the other 32-game tranche.
BT had said it would "continue to engage" with the Premier League over the final two packages.
Sky would be limited to only winning one of the two as any broadcaster is limited to a total of 148 matches.
There has been speculation that Amazon, Facebook, Netflix or Twitter would bid for the first time and break the Sky-BT duopoly.
"We are also in the middle of our global rights process as well," added Scudamore. "We are very confident that come the end of this year the rights will have gone up again for the Premier League for the three years starting 2019.
"They will be up and we certainly think by a decent amount and the show carries on."
What about the 39th game?
In 2008 Scudamore proposed the so-called "39th game" whereby competitive top-flight matches would be played outside England.
He then went on to say that there were too many obstacles in the way of the idea.
However, the NFL has begun to play matches at Wembley and has a 10-year deal with Tottenham to stage two games a season at their ground.
Major League Baseball's New York Yankees and Boston Red Sox will also play each other in two regular season games at the London Stadium in 2019.
"We've not changed our position," said Scudamore. "We thought it was a good idea at the time. Maybe not a 39th game - I think it evolved more to playing a round of fixtures abroad.
"The clubs continue to think, in principle, it is a good idea but we've also said that until the conditions are right - and until we can create the conditions where fans are, if not happy, then understand the parameters - then we are not going to be able to do it."