Championship 2017-18: How did BBC Sport journalists fare with season's predictions?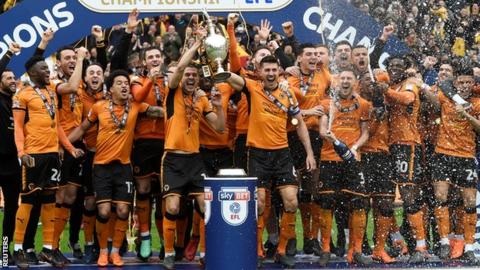 Remember at the start of the 2017-18 season, when we asked you to have a go at predicting your final Championship table?
A group of 25 BBC Sport journalists who cover Championship football on a regular basis were asked to make their own predictions - and their forecasts were combined to make a final table.
So how did they fare?
Championship 2017-18
Team
Final position
BBC prediction
Wolves
1
6 (+5)
Cardiff City
2
13 (+11)
Fulham
3
2 (-1)
Aston Villa
4
3 (-1)
Middlesbrough
5
1 (-4)
Derby County
6
5 (-1)
Preston North End
7
17 (+10)
Millwall
8
23 (+15)
Brentford
9
14 (+5)
Sheffield United
10
16 (+6)
Bristol City
11
19 (+8)
Ipswich Town
12
20 (+8)
Leeds United
13
10 (-3)
Norwich City
14
8 (-6)
Sheffield Wednesday
15
4 (-11)
Queens Park Rangers
16
18 (+2)
Nottingham Forest
17
15 (-2)
Hull City
18
9 (-9)
Birmingham City
19
12 (-7)
Reading
20
7 (-13)
Bolton Wanderers
21
22 (+1)
Barnsley
22
21 (-1)
Burton Albion
23
24 (+1)
Sunderland
24
11 (-13)
As you may have noticed, not one team's position was predicted correctly. We were close with quite a few, but also way off with others.
Here are the details...
The expected
The order might have been wrong, but our team predicted five of the sides that would finish in the top six.
The only side not to make it were Sheffield Wednesday, who were tipped to reach the play-offs for a third successive year but ended the campaign down in 15th.
With many perhaps cautious about how Wolves' foreign imports would perform in the Championship, only one of our 25 journalists thought Wanderers would win the title and one other person predicted they would finish second.
At the bottom of the table, it was expected that Bolton, Burton and Barnsley would all struggle and they did so.
Bolton's late comeback victory over Nottingham Forest on the final day of the season kept them up at Burton's expense, while Barnsley's poor end to the season saw them slip just the wrong side of the dreaded dotted line after 46 games.
The surprises (going up)
Cardiff took most pundits (including ours!) by surprise by finishing in the second automatic promotion place.
Only two of our team had the Welsh club finishing in a play-off spot, while one person even thought they would go down.
Instead, Neil Warnock masterminded an incredible ascension to the Premier League and clocked up his eighth promotion as a manager in the process.
Honourable mentions must go to Preston, Bristol City and Ipswich, who confounded our journalists' pre-season predictions of bottom-half finishes.
And Sheffield United, a team that were predicted to finish safely in mid-table after winning the League One title, were in play-off contention for much of the season and only faded in the final couple of months of the campaign.
But the team taking the prize for making our gaggle of reporters look like complete fools are Millwall.
The Lions had snatched a League One play-off place in the final five minutes of the 2016-17 campaign and then edged past Bradford 1-0 in the final at Wembley.
Surely they would struggle in the second tier?
Our team thought so. Eighteen of our 25 journalists put them down to be relegated, while the highest anyone predicted they would finish was 20th.
That went well.
A 17-match unbeaten run put them on the brink of the play-offs in the closing weeks of the season and, although they eventually missed out on the top six, an eighth-place finish was well above expectations.
To anyone supporting or connected with Millwall - our team are glad you proved them wrong.
The surprises (going down)
Predicted finishes from second to 19th were put forward for Hull, who had a new Russian boss in Leonid Slutsky and a much-changed squad following their relegation from the Premier League.
They were something of an unknown quantity and ended up slipping into a relegation battle, only moving clear of the bottom three with a late-season surge under Nigel Adkins.
As mentioned previously, Sheffield Wednesday - dogged by long-term injuries to several key players - were well below our team's expectations.
But the two clubs that performed much worse than predicted were Reading and Sunderland, who both ended 13 spots adrift of their pre-season placing.
It was thought that Reading, losing play-off finalists in 2016-17, would be in the play-off reckoning again but it turned out to be a season to forget for the Royals.
They faltered under Jaap Stam, who was replaced by Paul Clement in March, and they only guaranteed Championship survival by drawing their final game at Cardiff.
And nobody in our team predicted Sunderland to be relegated for a second season in a row.
Somewhat alarmingly, one person (who shall remain nameless), even thought the Black Cats would be champions.
Football, eh?
It is all part of the fun. So let's do it all again when the EFL returns in August, shall we?