World Cup 2018: Five reasons to be optimistic about England
By Alistair Magowan
BBC Sport
Last updated on .From the section World Cup882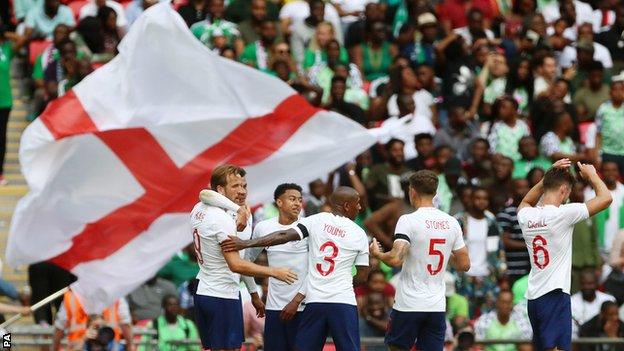 When Denmark's Christian Eriksen turned to Tottenham team-mate and England full-back Kieran Trippier after the final game of the season and said, "Good luck at the World Cup, see you in the semis," he could have been accused of being a touch optimistic.
Reaching the last four in Russia seems a stretch for Gareth Southgate's young squad, who average fewer than 20 caps per player and lack the star status of the fabled 'golden generation', which included Paul Scholes, David Beckham, Steven Gerrard and Frank Lampard.
This time, England's midfield might comprise Jordan Henderson and Eric Dier.
But while the players may lack experience and pedigree, it is also a squad which represents a new-look England, with added hope for the future.
Shorn of scars from previous tournaments, with a clear philosophy of how to play and with little expectation, Southgate has backed his players, saying he wants them to be "fearless".
So what are the reasons behind his optimism?
1. No scars, no pressure?
In the failures since England last won a World Cup knockout match in 2006, many have suggested the manager should axe the senior players responsible and blood youngsters for the future.
Southgate appears to share that view. Only five players remain from the 2014 World Cup in Brazil, when England did not make it past the group stage.
Although that means no-one in the England squad has won a World Cup game, few are tainted by previous experiences.
It might also be a relief to 20-year-old Manchester United forward Marcus Rashford, who has been criticised by club manager Jose Mourinho but who has featured in England's past nine fixtures under Southgate.
In interviews over the past week, the vibe coming out of the England camp has been positive. A story about players enjoying a game of cricket in the hotel corridors at St George's Park would appear to support the sense that they are operating with a relative lack of pressure.
Few fans expect England to win in Russia, but after being beaten by Iceland at Euro 2016 and with the FA targeting the trophy in Qatar in 2022, modest success should be achievable.
FA technical director Dan Ashworth, who oversaw England's triumph at the Under-17 and Under-20 World Cups last year, says: "History will tell you we haven't done very well in major tournaments since 1966, so there shouldn't be a massive amount of expectation to win it.
"But the minute the tournament starts, and the moment England players pull on an England shirt, the expectation is that we play well and win.
"It is still a relatively young squad, with a slightly different emphasis on a style of play and we have some terrific players, so I'd like to think we can get to the latter stages.
"When you look in a team sport, it's not always the ones with the best players on paper that win.
"And you've seen the argument for Germany winning it in 2014. Did they have the best 11 players for winning the World Cup? Maybe not. What they did have was a terrific collective and thoroughly deserved to win the tournament."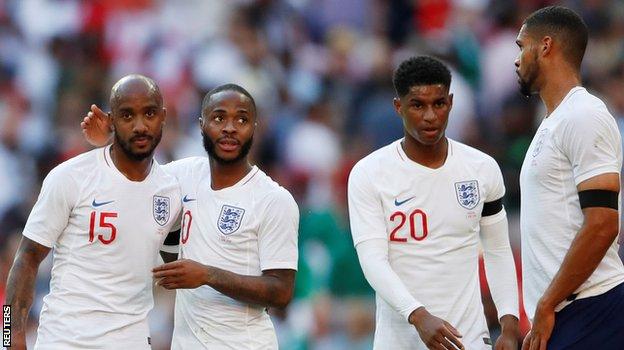 2. Southgate's belief in England DNA
Southgate has received praise for picking players who suit a clear vision of how he wants his team to operate - a brand of forward-thinking possession-based football, with pace at its heart.
With Rashford, Jesse Lingard, Raheem Sterling and Kyle Walker in the squad, there is no shortage of speed. But it is not a formula which has evolved by chance.
It fits in with England's new philosophy, or 'England DNA', launched in 2014 and which Southgate was a key part of.
Not only does it offer players clear guidance on how they should play - an important shortcut when the FA has them for only 55 days a year - but by adopting a similar style across all England teams players can step up an age group without feeling outside their comfort zone. That clarity has helped the players, according to Tottenham midfielder Dele Alli.
"I played with him a couple of times with the Under-21s, so I know [Southgate's] philosophy," he says. "He picks a lot of players where we want to play good football, attacking football, and that's important. It's exciting for us."
That is why Southgate had no worries about calling up Liverpool's Trent Alexander-Arnold who, at 19, is the most inexperienced player in the squad with no senior caps. However, the full-back has played 32 times for England's youth teams, starting with the Under-16s.
FA head of player and coach development Matt Crocker, who helped develop Alex-Oxlade Chamberlain at Southampton and works alongside all England coaches including Southgate, says they have tried to create "an academy feel" to St George's Park.
The consistency around England's style of play has been helped by applying 'England DNA' on the training ground so every session is familiar.
"One of the principles is 'look up, play forward'. We want to dominate the ball, but we want to be positive and dynamic with it too," Crocker says.
"We might not see players for two or three months, but condensing 'England DNA' down to six principles has made it really easy to get those messages across to the players. There is a simple consistency across our teams and the players have more confidence when they step up to the seniors.
"I really think we have more connected squads than ever before."
3. Technically better players
Southgate might be hamstrung by the fact that he can only select from a third of Premier League players, such has been the influx of foreign talent to the most lucrative domestic league in Europe.
But it might also have had an influence on the make-up of the squad, with 15 of the 23-man group starting their careers at English Football League clubs or lower.
Whatever their route, there is no doubt England teams have benefitted from coaching hours being doubled with club youth teams through the Elite Player Performance Plan (EPPP), which began in 2012 and cost the Premier League an initial £320m.
"The majority of players' development takes part at the clubs, and if you double contact time, it gives you more ability to deal with and master the ball," says Ashworth, who worked as a technical director at West Brom before taking on his role at the FA in 2012.
"Through our age groups, there has been a huge shift. I've been working in football for about 20 to 25 years and players are technically miles better now."
Alli, Alexander-Arnold, Rashford and Ruben Loftus-Cheek, who were 16 or under in 2012, will all have profited from EPPP, although both Ashworth and Crocker admit the real gains may come in the future.
But another coach who has worked with Alli and England captain Harry Kane believes senior players are benefiting from world-class coaches in the Premier League.
Dan Micciche, who coached Alli at MK Dons from the age of 11 and was head of England's Under-16s before he became MK Dons manager last January, told BBC Sport: "I've lost count of the times Kyle Walker has said that Pep Guardiola has made him a better player."
Fifteen members of the squad are being coached by Manchester City's Guardiola, Tottenham's Mauricio Pochettino, Liverpool's Jurgen Klopp or Manchester United's Mourinho, and all played Champions League games this season.
Micciche added: "Southgate now has players who are coming through with a better game understanding, and you need that to control games at international level."
4. Battle hardened from a young age
As much as the England squad lack experience at major tournaments, defender Gary Cahill, the most capped player, has suggested playing in big club games is an equal comparison.
He cited Liverpool's run to the Champions League final, which featured Alexander-Arnold and Jordan Henderson (38 caps), and Manchester City's march to the Premier League title, in which Walker (35 caps), John Stones (25 caps), Fabien Delph (10 caps) and Raheem Sterling (38 caps) played a part.
But there is also plenty of experience within the squad at England youth-team level, where players have learned to deal with tournament knockout games, penalty shootouts and playing lots of matches in a short space of time in often difficult conditions.
Everton goalkeeper Jordan Pickford has three senior caps but has played 54 times for England, starting with the under-16s, while Chelsea's Loftus-Cheek, 22, has 40 England youth caps.
Loftus-Cheek, who impressed on loan at Crystal Palace this season, says: "I am not one to fail under major pressure. As a youth player for England, you get used to it and you just carry it on to the bigger stages."
Micciche says tournament experience is not limited to international level.
"Young players have told me that in Germany they will play 10 to 15 tournaments a season at club level," he says. "We were miles behind that but the Premier League have now put on a huge number of tournaments.
"I remember an England under-15 tournament in Florida a few years ago, which featured Manchester City's Phil Foden scoring twice against Brazil and Fulham's Ryan Sessegnon scoring the tournament winner against the Netherlands.
"You'll ask them whether they have played against the Brazilians or the Dutch and they will say, "yeah, yeah, we've played them three or four times" in European Premier League tournaments, so these kids have a lot of experience already."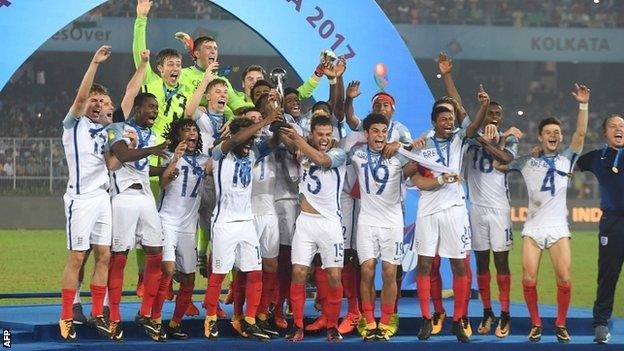 5. Signs that the system is working
Crocker estimates it might take "eight to 10 years" for the England squad to be full of players who have benefited fully from 'England's DNA' and the EPPP.
Even then, Ashworth says that despite youth-team success, he will not "take massive pride until we start competing regularly at the latter stages of senior tournaments".
There are signs the system is starting to pay dividends, however, with Alexander-Arnold's inclusion in Southgate's squad.
Crocker says the Under-17 and Under-20 World Cup wins last year have shown that England teams can "create a new history".
He says: "When I first came in here and I was interviewing some coaches for the job, one of them said, 'you'll never out-possession Spain'. Obviously, we didn't give him a job because that's such a limiting view.
"Players through EPPP have got as good a technical ability as any players in the world. We have smashed the perceptions of what England teams are all about. I don't think we have all the answers, but we now have a system that we fundamentally believe in."
Micciche believes that with the investment poured into the English youth game, more success can be achieved.
He estimates that category-one academy clubs, of which there are 24, can invest as much as £10m a season.
He says: "If we have the right coaches delivering the work, then we should clean up in years to come, including the senior World Cup."