Northampton Town: Kelvin Thomas puts club up for sale after council dispute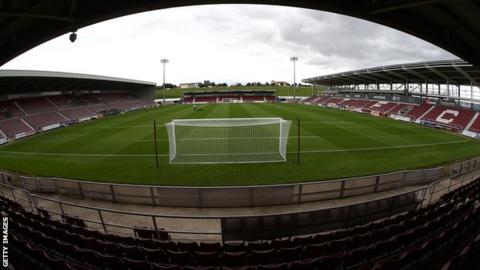 Northampton Town's owners have "reluctantly" put the club up for sale after a dispute with the local council.
In April, chairman Kelvin Thomas described Northampton Borough Council as "an immovable force" after plans for a new development at Sixfields stalled.
Responding to Thomas' comments, the council said it would continue to work "privately" with the club.
"We feel we have little choice but to step aside and allow others to complete the process," Thomas said on Wednesday.
"We are confident there is still a really good opportunity for the club's wider development."
Northampton will play in the fourth tier next season after being relegated from League One in 2017-18.
'Left with no choice'
In a club statement, Thomas continued: "Financially we are in a strong position to open conversations about the shareholding of the club.
"It is important to make clear that we will continue to support the football club as normal during our ownership and the existing budget does not change in any way and this will be a competitive budget for the league next season.
"The club has always been stable financially under our ownership and this will continue, and we will complete any discussions in a professional manner.
"We have always tried to be as open as possible with supporters whilst trying to advance matters regarding the East Stand in the background with the council and we are firm in our commitment that we will put the club first, but it is now with a heavy heart that we have reached this point as we feel we have been left with no choice."
The Northampton Town Supporters' Trust say they voiced "considerable frustration" last month at the "apparent stalemate" between Northampton and the borough council, and will consider calling a public meeting if no progress is made in the next two months.
"Council leader Jonathan Nunn has verbally given the trust an assurance that a paper about the East Stand development would shortly be going before the council's cabinet group for approval," said a statement.
"The next cabinet meetings are scheduled for June 13 and July 18 at the Guildhall and the trust will be sending a representative to these meetings."
The missing £10m loan
In 2013 Northampton Borough Council provided a £10.25m loan to redevelop Sixfields but the money went missing and the work was never completed.
In December seven people were interviewed for offences such as money laundering, including Howard Grossman, whose company managed the project and received most of the money.
The company, 1st Land Ltd, went into liquidation owing millions to contractors.
Grossman denies any wrongdoing, while a police investigation into the missing loan remains ongoing.
The BBC revealed in April that the council has spent more than £1m unsuccessfully trying to claw back the loan.