World Cup 2018: England captain Harry Kane says they can win in Russia
Last updated on .From the section World Cup1708
New England captain Harry Kane says the team can win the World Cup in Russia and "anything else is not good enough".
Striker Kane, 24, was informed about being made skipper by manager Gareth Southgate a few weeks ago and it was officially confirmed on Tuesday.
Kane scored 41 goals in all competitions last season as Tottenham finished third in the Premier League.
"It's impossible not to dream about lifting the World Cup. It's the biggest competition in the world," said Kane.
"I believe we can win it - anyone can. I cannot sit here and say we are not going to win it because we could do.
"It is my mindset and I want to win at everything I do. The players in the team want to as well. It is worth fighting for. I am sure we have all had dreams of lifting it and it is an opportunity for us.
"We are not favourites but you look at this season, no-one would have thought Liverpool getting to the Champions League final. You look at Manchester United back in the Sir Alex Ferguson days, they had a young team and dominated the Premier League for years to come.
"Being young is not an excuse - it could be a good thing. I believe we can and that is what we want to try and do. Anything else is not good enough."
England head to Russia on 12 June and face Tunisia in their opening game on 18 June, followed by matches against Panama and Belgium.
'A meticulous professional'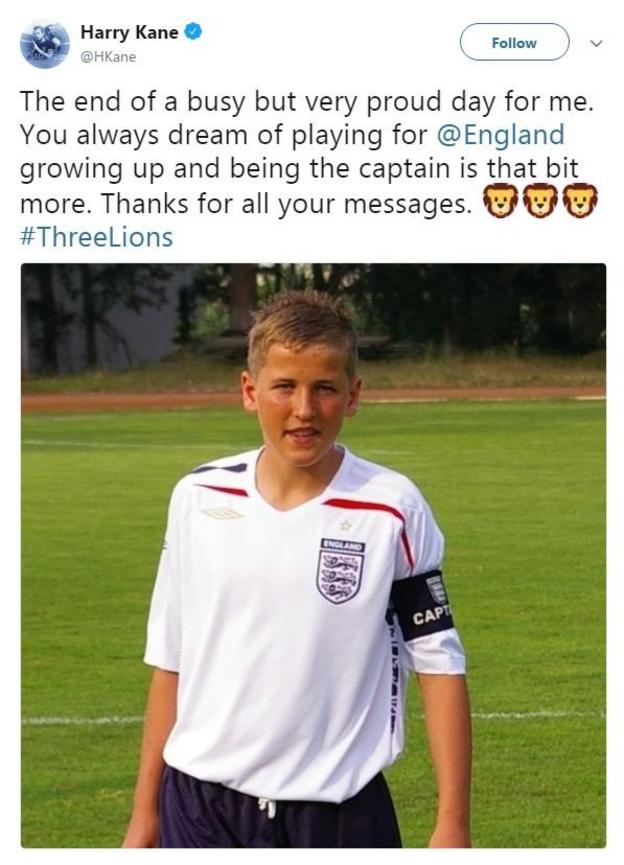 Kane first captained England in last summer's 2-2 World Cup qualifier in Scotland, where he scored a late equaliser, before going on to wear the armband on a further three occasions.
Spurs team-mate Eric Dier and Liverpool midfielder Jordan Henderson have also skippered England recently.
Kane, who has scored 12 goals in 23 appearances for his country, was described as a "meticulous professional" by Southgate.
"It is a massive day and a very proud day," he said. "It is a dream come true. I found out a few weeks ago when I met Gareth Southgate. We were talking for an hour and he said he wanted me to be the captain.
"I have had to keep it quiet for a while now but it is fantastic. I filled up with pride and went home and told my family.
"Not much changes, I am someone who wants to lead by example on and off the pitch. That is what I will try to do.
"There are some young players in the squad who look up to players like that. There are some older players who I can learn from too."
Southgate, who told the England squad during a meeting at St George's Park on Monday night, added:
"Harry has some outstanding personal qualities. One of the most important things for a captain is that they set the standard every day.
"He has belief and high standards and it is a great message for the team to have a captain who has shown that it is possible to be one of the best in the world over a consistent period of time and that has been his drive.
"My feeling is that over the last 18 months in the camps that he's been with us he has shown that he has got the desire to take that into a team environment and he recognises the importance of bringing others with him."
England's key World Cup dates

2 June

v Nigeria (friendly at Wembley)

7 June

v Costa Rica (friendly at Elland Road)

12 June

Squad leaves for Russia

18 June

v Tunisia (opening group game)

24 June

v Panama (second group game)

28 June

v Belgium (final group game)
Analysis
BBC chief football writer Phil McNulty
England manager Gareth Southgate was effectively making a choice from two as World Cup captain - Harry Kane or Jordan Henderson.
Southgate was clearly comfortable with either Tottenham's striker or Henderson, who has captained Liverpool to Saturday's Champions League Final against Real Madrid in Kiev.
In the end, he has gone with 24-year-old Kane and few who have seen him when he has worn the captain's armband for England would argue with the wisdom of that decision.
Kane has shown that he can not only cope with the extra responsibility but thrive upon it, especially when his late equaliser rescued England from a World Cup qualifier defeat in Scotland last June.
He is an undisputed first-choice, will literally lead from the front and has the calm, measured personality on and off the pitch to deal with the unique demands of leading England at a major tournament.
The only question marks expressed have been whether a striker is the best position for a captain - but Southgate has chosen Kane knowing full well it will not stop Henderson from imposing his own force of personality, with or without the armband.
Former England captain Peter Shilton on BBC Radio 5 live
The hardest thing in football is to score goals, why wasn't Gary Lineker a captain? Because basically he was a goalscorer, his responsibility was to get in that box to score goals and we're putting all that on Harry Kane,
People are talking about him being our lone striker, I don't want to go along with that, Leicester's Jamie Vardy should be up there with him and give him some support.
Having said that, I think being a striker is a big responsibility, it's the ultimate, you've got to get goals and being so young he is the captain as well.
He hasn't been to a World Cup so it is a lot to ask from him but he's a strong character but are we asking too much?
At this moment in time I'd give it to Henderson in midfield - if he's going to be a regular - and let Harry get on with scoring goals.