Kilmarnock: Steve Clarke urges Scottish clubs to 'grab hold of Celtic's coat-tails'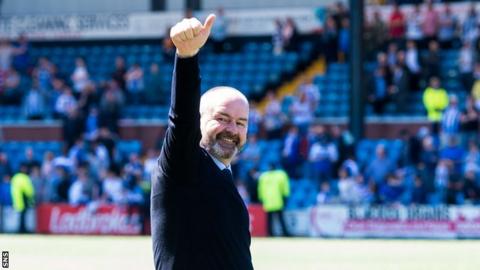 Steve Clarke hopes Kilmarnock or another Scottish Premiership club can "throw a spanner in the works" to check Celtic's progress next season.
Brendan Rodgers guided Celtic to back-to-back Trebles following Saturday's Scottish Cup final win over Motherwell.
"We all have to try to grab hold of Celtic's coat-tails and bring them back towards us a little bit," Clarke said.
"We need Rangers to be better; Aberdeen will improve and I think Hibs will improve, as will Hearts."
Clarke's Kilmarnock finished fifth in the Premiership this season, after sitting bottom when he took over in October, and he believes he has the nucleus of a squad to challenge again next term.
'Any club can come and take my players'
"We're going to try. We're certainly not in the same league, financially, as Celtic," Clarke told BBC 5live's Sportsweek.
"Their budget is probably 20 times our budget. We did very well this year and we competed in every game that we played. When I went to the club [Kilmarnock] it was on its knees. It wasn't a happy place and the players were very low on confidence and they didn't have any guidance.
"All I did was give them a little bit of direction: 'we should go this way'. I looked at what I had in the squad and found a way to play that suited the players and their confidence picked up.
"Suddenly, they were winning matches and they felt good about themselves and we finished the season in a really good place. The problem I have as Kilmarnock manager is that any club can come and take my players; we can't stand in their way.
"Any money that the club needs, we would have to accept bids. So, it's very difficult for me to sit here and say 'we'll challenge again for the top six next season'.
"I would like to think that we will because we have the nucleus of a good squad. If I can keep that squad together, and maybe add one or two over the summer, then I'd like to think we'd be very competitive again next year."
After Clarke took over, Kilmarnock only lost one of their seven matches against the Old Firm, beating Rangers home and away, and the champions at home, as well as earning two draws at Celtic Park.
"They didn't win all of their league games and dropped quite a few points, which maybe makes next year maybe more interesting, hopefully," he added.
"But when it came to the cup competitions and the big matches, Celtic showed they were that little cut above everybody else.
"Now, it's our job as the chasing pack - Aberdeen, Rangers, Hibs, Hearts, Kilmarnock, Motherwell, St Johnstone - we all have to try to grab hold of Celtic's coat tails and bring them back towards us a little bit.
"But the achievement of back-to-back Trebles, everybody looks at Scottish football and says 'that's easy for Celtic - they win all the games'.
"Trust me, they have to work very hard to win a lot of those games. And they do it very well - a double Treble is a really good achievement. Hopefully next year, somebody can throw a spanner in the works and they don't win everything."