Sierra Leone's new sports minister hopes to restore peace in country's FA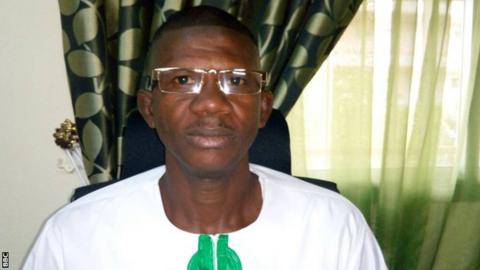 Sierra Leone's new sports minister, Ibrahim Nyelenkeh, wants the domestic league to resume in 90 days as he works to heal the rift which is dividing football in his country.
A power struggle at the Sierra Leone Football Association (SLFA) means there has been no domestic league football for almost four years.
Two rival bodies claim to be in charge of the SLFA - one led by Isha Johansen which is recognised by Fifa and the other led by Brima Mazola Kamara.
Kamara took over last year after Johansen was set aside by her executive when she was charged with corruption - charges she strongly denies.
"I have done my level best to engage the aggrieved parties and both parties have given me commitments and assurances that they're ready for peace," Nyelenkeh told BBC Sport.
"My country's President and I have targeted the league to start within 90 days. So this is the period we are working towards.
"That's why I have given myself a timeframe of three weeks to fast-track the peace process."
The main issues dividing the SLFA concern the delays to FA elections and match fixing investigations and the conduct of integrity checks on officials wanting to contest executive positions.
A Fifa taskforce visited the Sierra Leonean capital Freetown in late September and called for a roadmap for peace.
"We've agreed that we follow the Fifa peace-roadmap which was prepared when I wasn't even a sport minister.
"The roadmap document is telling us about match fixing investigations, integrity checks, the conduct of Congress etc.
"It contains all the problems that should be be settled before even the different parties can come to one unit so that football can resume again," Nyelenkeh added.
Fifa has named a four-man match-fixing investigation unit to investigate 15 players and officials, though the investigations are yet to commence.
All the players and officials deny any wrongdoing.
Nyelenkeh agrees Johansen should take the lead in the peace process as directed in the Fifa roadmap, but he says she should still be set aside in line with the country's Anti Corruption Commission (ACC) laws.
"Everybody knows that the elected SLFA President Johansen has been indicted by the ACC and by law she should step aside and allow the investigations to go on.
"The SLFA vice president Brima Mazola Kamara should take over as acting President.
"I brought Johansen into this process because the Fifa roadmap spelt out that the Johansen-led executive should be part of the peace process and she should lead.
"I'm glad to state that she is participating in the peace process and the process is going good and fine.
"I have told Johansen to look at the bigger picture which is Sierra Leone," added Nyelenkeh.
Fifa says it still recognises Isha Johansen as the president of the SLFA and says that the action of setting her aside due to the corruption case is "invalid," something Nyelenkeh disagrees with.
"Sierra Leone is a sovereign state - whether Fifa supports her or not we don't have that mandate to violate our constitution.
"We have respect for the rule of law. We can't circumvent it. Johansen knows that. In fact she had accepted that she should be set aside," Nyelenkeh said.