Exeter City v Lincoln City: Danny Cowley claims Imps kit man 'assaulted' by fans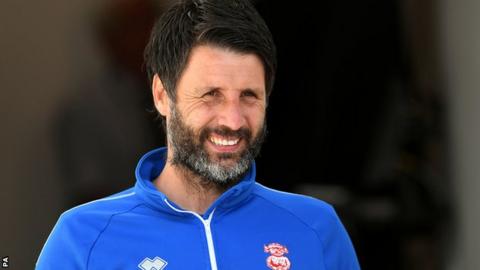 Exeter City have promised a "full investigation" after Lincoln manager Danny Cowley alleged kit man Dick Tacey was "assaulted" during a pitch invasion following Thursday's play-off defeat.
Fans ran onto the pitch after Exeter's 3-1 second-leg win at St James Park sent them to the League Two final.
"It's not what you want to see, it's not what you're in the game for," Cowley told BBC Radio Lincolnshire.
Exeter told BBC Sport they are aware of the allegation and will review footage.
Cowley added: "A few of them [staff] have had unsavoury incidents and you don't like to see that. Of course, Exeter supporters are happy. Some of them were OK and good with us, but some of them were inappropriate.
"Our 78-year-old kit man was assaulted.
"You respect the fact that Exeter have won and they're a good club. But their supporters have got a bit over-zealous and that's a shame - only some of them. It's only a small minority and you have to remember that."
In a statement, Exeter said: "As a fan-owned community club, we cannot condone the alleged conduct at the final whistle and will take appropriate where necessary."