Truro City: Two offers of investment into National League South club being considered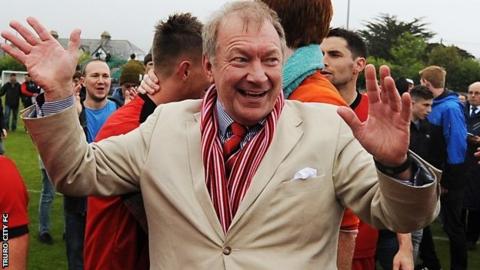 Truro City chairman Peter Masters says he is considering two bids to invest in the National League South club.
Masters announced in January that he was considering selling his stake.
The businessman and partner Philip Perryman - who has agreed to stay for another year - bought Truro in 2012 after the club almost went bust.
"We've had a lot of interested parties, but we're really down to two - one requiring 50% of the shares and the other wants the whole club," he said.
"We're currently doing some due diligence of the pair of them and hopefully we can take on one of those going forward.
"But now Mr Perryman has pledged his support for another season there's no real rush on that side, so we'll be taking our time and making sure that any decision that is made is right for the club."
Confidentiality agreements prevent Masters disclosing anything about who is bidding for the club.
But he says with the prospect of a new stadium being built and a squad that reached the first round of the FA Cup and the National League South play-offs, it is an enticing proposition.
"I'm hoping it will be concluded one way or the other before the start of the season," he told BBC Radio Cornwall.
"With the stadium decision being made and the club being debt-free, as well as a good season and the FA Cup run, it's all good news.
"We've had a good five years now and the club is in good shape.
"Getting that stadium built would be absolutely fantastic, that would really open the floodgates for everything," he added.
Stadium work could start in August
The government is currently considering a bid to put £3m into the funding for the Stadium for Cornwall after the county council agreed a similar level of cash for the project.
The arena in Truro would also house the Cornish Pirates rugby team and be used by Truro and Penwith College, with Masters saying would could begin by the end of the summer.
"We've received favourable reviews from the government and the business plan is being put together," he added.
"Lots of work is being done behind the scenes regarding the costing of the stadium, and we're hoping that we can start building around August."