Gianluigi Buffon: 'Maradona of goalkeepers' bids farewell to Juventus, but what next?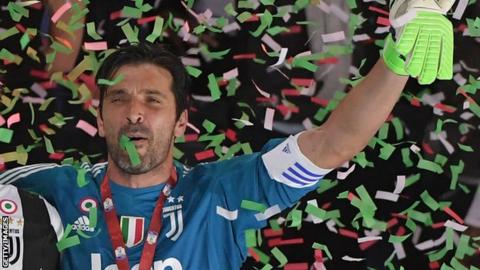 Saturday's game against Hellas Verona will be Gianluigi Buffon's last in a Juventus shirt. However, he is not retiring... well, not yet anyway.
Buffon will reveal his intentions next week, but he claims to have some exciting offers both on and off the pitch, the most interesting of which, he revealed on Thursday, comes from within and involves learning the ropes under Juventus president Andrea Agnelli.
All that is certain for now is Buffon has one last game to play at the Allianz Stadium.
"It will not be a goodbye alla Totti," Buffon's agent, the former goalkeeper Silvano Martina, said. "Celebrations like that are more in keeping with the passionate Roman style."
Turin is different.
The backdrop of the Alps reminds you that temperatures and temperaments are cooler here, although it was hard not to be moved listening to Buffon and Agnelli at Thursday's press conference. Living among nature's giants helps man know his place in the order of things. It's a question of perspective.
Saturday afternoon will definitely be a strappalacrime - a tearjerker - Martina confided. But if you're expecting a Hollywood production, then prepare to be disappointed.
Buffon's final bow in Juventus colours will be a "sober" affair without excess. For frame of reference, picture a chief executive packing up his desk at car maker Fiat after 17 years.
The scene calls to mind something Carlo Ancelotti said about the difference between working at AC Milan and Juventus. One's a family. The other's a company.
There is little room for sentiment. A brief moment.
What the heart wants seldom overrules the head as Buffon's predecessor as Juventus captain Alessandro Del Piero found out.
Del Piero wished to finish his career beside the Old Lady. But in 2012, Juventus felt it was time to move on. Not yet ready to hang up his boots, their number 10 had to leave.
Buffon, however, gives the impression of being more accepting and understanding of the club's plans. Yet the decision is still something he has agonised over. The vocina - or little voice - inside his head has been debating what to do all year and continues to chatter away.
What probably leaves Buffon conflicted about pulling off the gloves once and for all is the knowledge that, unlike Roma legend Francesco Totti, who retired last season, and Del Piero, he can still be effective at the highest level, even though he is 40.
It's different for goalkeepers. Just look at Dino Zoff. He lifted the World Cup at 40. So it's hard to walk away.
Buffon admitted as much on Wednesday when he told Gerard Pique, the Barcelona centre-back, that he is "a little afraid".
But as the last great player of that Football Italia generation, Buffon is perhaps better for the experience of seeing what Paolo Maldini, Del Piero, Javier Zanetti and Totti went through.
He knows that fairytale endings are exactly that; the stuff of fairytales. Winning the Champions League and going to a record sixth World Cup was probably what Buffon dreamed about. But you can't always get what you want.
While Buffon claims not to feel a day over 28 and can see himself playing into his 60s, he is self-aware enough to know what playing on looks like. At least in Italy.
"I don't want to be a catenaccio," he told La Gazzetta dello Sport earlier this year. The word is an evocative one, associated with cast-iron Italian defences locking up the game and stopping others from scoring. A barrier to entry.
"I don't want that," he said. "A 40-year-old has to have a sense of responsibility."
Getting in the way of another goalkeeper's development is anathema to a player who burst on the scene as a 17-year-old in spectacular fashion, stopping Fabio Capello's Milan and Ballon d'Or winners such as Roberto Baggio and George Weah.
Now is Wojciech Szczesny's time at Juventus. Rated as Serie A's best goalkeeper last season, his acquisition in the summer hinted at a succession plan.
The Poland international played a significant role in Juventus' fourth consecutive double this season, with 13 clean sheets in 21 appearances and big saves in pivotal games against Olympiakos and Roma.
As much as signing Szczesny ties in with Ancelotti's description of Juventus as a business, Buffon would counter that this is a family.
Stereotypes about how cold and unsentimental Juventus are clash with the warmth between Buffon and president Agnelli, who spoke with great affection beside him on Thursday.
Godfather to Agnelli's daughter, Buffon is also close to the vice-president Pavel Nedved, his former team-mate.
"It'll be difficult without him," Nedved told Radio 24 this week. "We joined the club together in 2001. He's a legend of Italian football."
Fabio Cannavaro calls him "the Maradona of goalkeepers". The Scudetto Juventus celebrated at the weekend was the ninth of Buffon's career. No one has won more.
Four days earlier, he kept a clean sheet in the Coppa Italia final. It was his 300th in black and white.
Two years ago, he broke Sebastiano Rossi's record for minutes without conceding, shutting out opponents for more than 16 hours.
He should maybe have become the first goalkeeper since Lev Yashin to win the Ballon d'Or. In 2006 he finished runner-up to Cannavaro after Italy's last World Cup triumph.
His longevity is remarkable when you consider the manner in which his great contemporary over the first decade of this century, Iker Casillas, declined so quickly. Casillas, incidentally, is four years Buffon's junior.
Measuring Buffon's legacy in terms of trophies and talent is not enough on its own to get a sense of his impact on Italian football and society as a whole though.
Buffon is that rarest of things; a born leader. He went down with the ship when Juventus were relegated to Serie B and has often given Gettysburg-like addresses on behalf of his club and country.
That image may be hard to square with the Buffon we saw at the Bernabeu in April, launching an astonishing tirade against referee Michael Oliver, for which he apologised on Thursday. It was a moment that felt like his own version of Zinedine Zidane's headbutt.
It was reminiscent of the teenage Buffon who used to hang with the ultras, not the statesman who never failed to find the right words, take responsibility and rally people around him in times of adversity.
Leaders like Buffon are lacking and not just in football. More than two months on from a general election, Italy is still without a prime minister. While the country may be divided on that front, it is united when it comes to Buffon. Every ground he has visited this season has applauded him as an all-time great.
Before Barcelona played Juventus in the Champions League this season, midfielder Ivan Rakitic said that if you asked a child to draw a goalkeeper, they would draw Buffon.
Equally if you were to ask them to draw an Italian, they would probably do the same.