Dan Carter shares All Blacks wisdom with Wales boss Ryan Giggs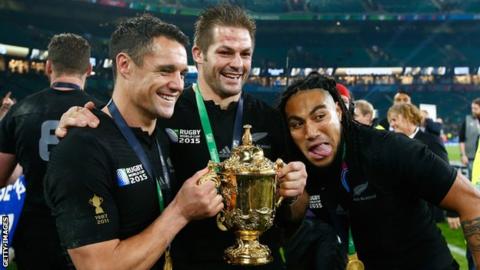 Friendly international: Mexico v Wales
Venue: Rose Bowl Stadium, Pasadena, California Date: Tuesday, 29 May Kick-off: 02:00 BST
Coverage: Live on BBC Sport website and BBC Sport app, plus live text commentary.
Wales manager Ryan Giggs has taken advice and inspiration from New Zealand rugby union great Dan Carter as he integrates a new generation of talent.
Giggs has named a 32-man training camp ahead of Wales' 29 May friendly with Mexico in the United States.
That includes a raft of youngsters and Giggs hopes to use Carter's experience of the All Blacks' established stars being expected to mentor new players.
"When Dan was there he had to look after Beauden Barrett," Giggs said.
"He was after his place, but in New Zealand you have to look after the next generation.
"I thought it was fantastic that if he didn't, he would have got hammered from the All Blacks media, the fans, and that's just part and parcel of why the All Blacks are so great.
"Even though he's after his place, he still has to guide him and help him along.
"It's passing on the baton. Dan had a pretty good career himself and he said it made him a better player and kept him sharp.
"I spoke to Dan a few months ago and he was saying about the New Zealand rugby team and how you have to look after the next generation.
"He said it probably prolonged his career because he still wanted that jersey, but knew he had someone biting at his ankles and wanting to take his place."
Giggs saw inexperienced 21-year-old Harry Wilson of Liverpool and Brentford defender Chris Mepham, 20, among those to impress in his first games in charge during March's China Cup.
"Having these young players around is exciting and gives them a great chance, which is what I believe in," Giggs said.
"The experienced players are important in that respect too and they were in China. They came into the team and helped the younger guys along."
The former Manchester United man - himself once Wales' youngest international after being capped at 17 - has called up a number of Under-21 players for a training camp ahead of the game with Mexico in California's Rose Bowl Stadium.
It includes Sheffield United's David Brooks, 20, and 18-year-old Manchester City midfielder Matthew Smith.
And, after his conversation with former All Blacks outside-half Carter, who won 112 caps, scored 1,598 Test points and had two World Cup winners medals, Giggs is keen for his seasoned stars to help the new faces reach their potential for the benefit of the national side.
Giggs will again be without Ethan Ampadu, while Ben Woodburn and Gareth Bale are unavailable after Liverpool and Real Madrid reached the Champions League final.
The 44-year-old, who is also without the injured Joe Allen, will trim down the training camp before travelling.
Giggs added: "I said to them this morning 'don't do anything different', you're here for a reason and that's because of what you can do.
"There's a reason you're here, just make sure you set the standard and keep to it."
Ramsey returns
Former Old Trafford assistant manager Giggs has cited senior men such as Bale, Aaron Ramsey, Allen and captain Ashley Williams as key figures in his aim for collective responsibility towards the side's improvement through developing individuals.
Ramsey is set to feature for Giggs for the first time after the Arsenal playmaker missed the China trip with a pre-planned minor operation.
The 33-year-old Williams travels having not played for club side Everton since Wales' 6-0 win over China and 1-0 loss to Uruguay in March.
"I spoke to him about 10 days ago - he was fine and he was doing a lot of fitness work," said Giggs of Williams' recent struggles.
"He's not been injured and the two games in China did him the world of good.
"You want all of your players in that match rhythm, but he has that experience to deal with that."