Bangor City will not challenge 'devastating' licence decision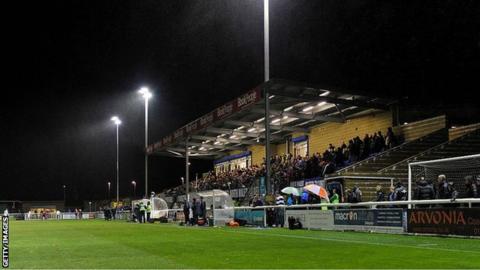 Bangor City have said they will not challenge the "devastating" decision to deny them a licence to compete in the Welsh Premier League next season.
The FAW refused the club on financial grounds, which means despite finishing second they will be demoted to the Cymru Alliance.
The club said legal action would "leave the club in a perilous position".
Bangor are one of three clubs to have been members of the Welsh Premier since its inception in 1992.
Their manager Kevin Nicholson and his assistant Gary Taylor-Fletcher have said they will leave the club following their demotion, with a new manager due to be announced.
A club statement said: "Since hearing the devastating news... we as a club have been exhausting every avenue to try get the decision overturned.
"The possibility of the high court as well as CAS [Court of Arbitration for Sport] were both options explored.
"But after seeking legal advice, the board of directors were given no guarantee the case would be successful.
"With the financial pressure involved to pursue this legal matter it would leave the club in a perilous position and could have significant implications on the immediate return to the Welsh Premier League," the club said.
They said they have set up a new accounts team to "ensure that this situation never arises again" and that a tier one licence will be achieved next season.