England World Cup squad: Has Southgate found answers to key questions?

By Phil McNulty
Chief football writer
Last updated on .From the section World Cup875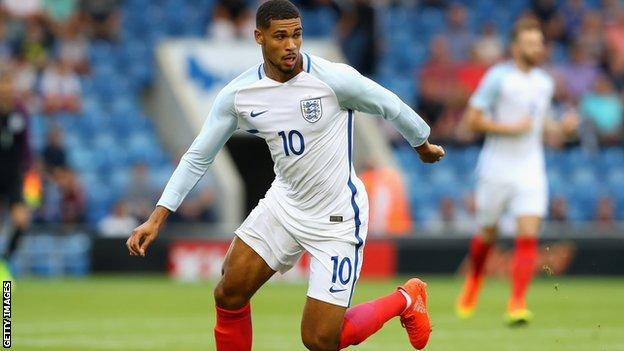 England manager Gareth Southgate has named his 23-man World Cup squad for Russia - and it is a mixture of the tried and trusted and the young bloods.
Has he come up with the solutions to give England cause for optimism in Russia?
Did he get the goalkeepers right? Pope a shrewd selection
Two out of three were done and dusted - it was simply the thorny issue of England's third goalkeeper that Southgate needed to decide on.
Everton's Jordan Pickford looks certain to be first choice, with Stoke City keeper Jack Butland providing close competition, but in a squad away from home for a lengthy period at a World Cup this was still an important and significant choice.
Did England need the experience of 31-year-old Joe Hart around the squad after being England's undisputed first choice in the past three major tournaments - or was it time to look to the future with Burnley's Nick Pope?
Southgate went with the 26-year-old, who has had an outstanding season at Turf Moor, a decision which effectively ends Hart's England career after 75 caps.
Pope has yet to win his first England cap, but this is a shrewd selection, not only with an eye to the future but also based on form this season. He has maintained high standards throughout while Hart has only underscored his decline, not even being able to command a regular place on loan at West Ham United.
England's third goalkeeper will only be used in extreme circumstances so it's a wise, forward-looking choice.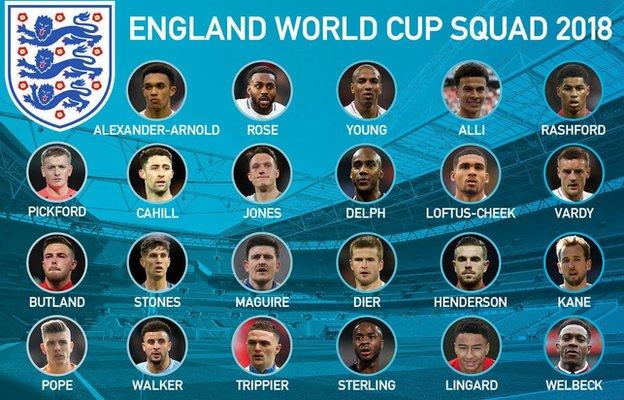 Did England's old guard make the cut? Wilshere would have offered creativity
Hart aside, Gary Cahill and Jack Wilshere were the two experienced England campaigners who will have had the most anxiety in the build-up to the naming of the squad.
They had mixed fortunes, with 32-year-old Chelsea defender Cahill - who was not in Southgate's squad for the March friendlies against the Netherlands and Italy - given the chance to add to his 58 caps.
Southgate, who will play a three-man defensive system, plumped for Cahill's experience alongside Manchester United's Phil Jones, Harry Maguire from Leicester City and Manchester City defender John Stones.
Tottenham's Eric Dier is also a candidate to move back from midfield in that formation but clearly Southgate feels he needs the battle-hardened Cahill, despite his failure to claim a regular place at Chelsea this season.
But Arsenal midfielder Wilshere has failed to make the cut, Southgate clearly feeling the 26-year-old's fitness makes him a risk not worth taking and his form failing to make a compelling case for inclusion.
Wilshere, once England's great midfield hope, could have provided much-needed creativity but his cause was not helped when he had to pull out of those March friendlies late on after another injury setback.
There is better, and surprising, news for another of the relatively older brigade with the inclusion of Wilshere's Arsenal team-mate Danny Welbeck.
The 27-year-old forward has won the trust of a succession of England managers, all admiring his work-rate, versatility and consummate professionalism. They can also point to a respectable 15 goals in 37 international appearances.
Welbeck has had injury problems in his recent career and made only 25 starts in all competitions for Arsenal last season - but he has qualities every England boss seems to admire.
Liverpool's Adam Lallana will be disappointed by his absence but the 30-year-old has had a miserable season with injury and suffers the same fate as Wilshere, although he makes the standby list. It is an added blow because Lallana was growing in stature as an England player with every game before injuries.
Manchester City's versatile Fabian Delph, at 28, is also restored and his adaptability will also help Southgate.
England's key dates

2 June

v Nigeria (friendly)

7 June

v Costa Rica (friendly)

12 June

Squad leaves for Russia

18 June

v Tunisia (opening group game)

24 June

v Panama (second group game)

28 June

v Belgium (final group game)
Will Southgate blood the young guns? Alexander-Arnold has been outstanding
Southgate has never been afraid to give youth its chance, and the standout inclusion here is Liverpool's 19-year-old right-back Trent Alexander-Arnold. He will qualify as the 'bolter' in this squad - the surprise name that comes with a late surge to make the final line-up.
Alexander-Arnold has been outstanding in both the Premier League and Champions League for Liverpool. He will have to battle his way past Kieran Trippier to stake his claim as understudy to Kyle Walker but surprises have happened at World Cups before.
Chelsea's Ruben Loftus-Cheek is the other youngster given his ticket to Russia after a hugely impressive season on loan at Crystal Palace. The 22-year-old is the epitome of the modern midfield all-rounder, having a fine debut in the friendly against Germany at Wembley in November, when he gave a man-of-the-match performance.
Loftus-Cheek, powerful and creative, could yet make strong claims for a place in England's starting line-up against Tunisia in Volgograd on 18 June if he produces his best in the lead-up.
Can Southgate uncover England's creative edge? Loftus-Cheek could be the answer
Wilshere could have provided creativity but Southgate has refused to gamble - so who will fill in the gaps left behind?
Loftus-Cheek has a real opportunity to make his make his mark, particularly in the absence of Liverpool's Alex Oxlade-Chamberlain, who was coming into prime form before he was ruled out with a serious knee injury. Lallana's absences have also reduced options in this regard.
Tottenham's Dele Alli has proved he has what it takes at this level while Manchester United's Jesse Lingard confirmed his reputation as a player who makes things happen with the winner against the Netherlands.
Manchester City's Raheem Sterling has matured to the point where he has just had the finest season of his career, winning the Premier League title, so Southgate does have options around Harry Kane.
If Dier does drop back, a space could open up alongside Liverpool's Jordan Henderson - could Loftus-Cheek be the player to fill it?
Who will be England's captain? A choice between two
Yet to be revealed and a straight choice between Kane and Henderson, who offer differing qualities.
Kane is England's main striker, the man who will lead from the front and by example, a modest but powerful personality who will be keen to make up for his disappointment at Euro 2016.
Henderson, meanwhile, has developed into a top-class captain at Liverpool as they have reached the Champions League final. He also did himself great credit as captain on and off the field in the March international break.
Kane is still favourite - and would be the choice here - but few would complain about Henderson getting the nod.
The verdict
England's World Cup squad is bright and energetic, albeit one of relative inexperience with a total of only 442 caps, and 11 of the 23 having made fewer than 20 international appearances.
It is a positive selection, with perhaps the choice of Welbeck ahead of Lallana one bone of contention.
Southgate, understandably, will point to Lallana's lack of action this season as a key factor - a perfectly rational argument.
England's squad possesses lots of versatility and adaptability, key qualities for Southgate, with only the odd surprise.
Southgate and his players can travel with cautious optimism, not as potential World Cup winners but with the capacity to make the last eight in Russia.