Scotland: Craig Brown regrets leaving out Ally McCoist from 1998 World Cup squad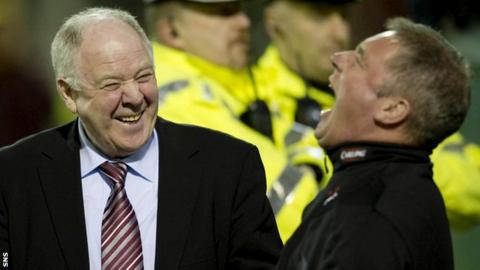 Former Scotland manager Craig Brown says he still feels "great regret" over his decision not to pick Ally McCoist in his squad for the 1998 World Cup.
The veteran striker, then 35, had scored 15 goals in his final season of a record-breaking Rangers career.
Brown, now 77, says telling players they had not made a World Cup squad was one of the toughest parts of the job.
"It's with great regret with hindsight that I made that decision. It rankles with me," he told BBC Scotland.
"I spoke at a dinner last week and Alistair [McCoist] was there. I publicly apologised because I felt I'd done the wrong thing.
"He knows it and I know it. I've got to accept it and live with it I'm afraid."
England boss Gareth Southgate announces his 23-man squad for next month's World Cup on Wednesday, with Joe Hart and Jack Wilshere among those experiencing similar disappointment to McCoist 20 years ago, the last time Scotland qualified for a major finals.
"I spoke to Ali and Stuart McCall - both Rangers boys - before I announced the squad," Brown recalled.
"I didn't text them or phone them - I asked to meet them. I remember I met them at the Parklands Leisure Centre in Glasgow.
"They are both excellent men - they took it on the chin. I know Ali was upset. He said, 'we are playing Norway in our second game, and I always score against Scandinavian teams'. He was making a case for himself, almost pleading to be included.
"But they accepted it like the men they are, and I have the got the highest regard for them."
'It's unpleasant but it's part of the job'
McCoist had scored 19 goals in 59 games for his country to that point, but had not featured since September 1997. He played two more games for his country later that year.
Brown selected Kevin Gallacher, Gordon Durie, Darren Jackson, Simon Donnelly and Scott Booth as his striking options for the World Cup in France.
None were on target as Scotland were beaten 2-1 by Brazil, drew 1-1 with Norway and lost 3-0 to Morocco to exit at the group stage.
Brown says telling players they have been left out of a squad is "similar to releasing a player on a free transfer".
"It's very difficult, it's unpleasant but it's part of the job and you've got to do it," he added.
"It's easy to phone somebody and say that you're in but it's very difficult to look them in the face and say 'you're not going to the World Cup', which is the highlight of their career for many players.
"I used to say to players 'this is a footballing decision and nothing else'. You have to do things you feel is in the best interest of the team."