David Silva thankful as son Mateo ends five-month stay in hospital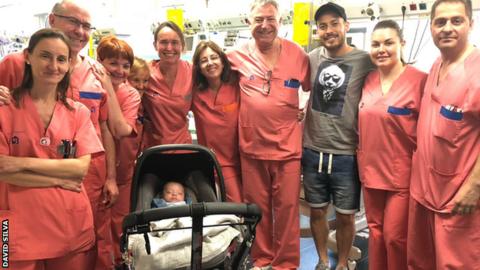 Manchester City midfielder David Silva says he is "eternally grateful" to hospital staff after his prematurely-born son was released from hospital.
Silva, 32, has not featured in eight Premier League games since Christmas in order to visit son Mateo in hospital in Spain as City claimed the title.
Mateo was born in December but only left hospital on Tuesday, ending what Silva called a "long five months".
"We're finally going home!" tweeted Silva.
Silva told media earlier this year that Mateo was "fighting day by day" and in March said the situation had made his private life "very hard".
The Spain international missed City's title parade on Monday and in apologising to fans on social media, explained Pep Guardiola's understanding of his situation means he will be in "debt forever" to the manager.
He said: "I want to say thank you to the fans, my team-mates, the staff, club and especially to the manager for understanding my situation. You are a top human being."
Speaking in January, Guardiola said: "David is free to stay or to leave whenever he needs to. Family is the most important thing in life."