World Cup 2018: Philipp Lahm on winning in 2014, retiring, Joachim Low & England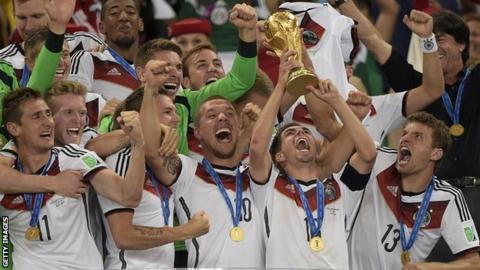 Germany's Philipp Lahm was the last captain to lift the World Cup, his final act before retiring from international football.
BBC Sport went to Germany to meet the 34-year-old Bayern Munich legend, who ended his playing career last summer.
He spoke about many topics, including World Cups past and present, Germany boss Joachim Low, Manchester City manager Pep Guardiola - who coached him at Bayern - and England's hopes in Russia.
What is it like to win a World Cup?
The defining moment was the final whistle of the 2014 final, that moment when you realise you are a world champion. It is hard to describe the emotions. You can only understand it when you have really felt it in that moment. But when we scored to make it 1-0 - keeping the level of concentration high until the end - we wanted to win the match at all costs.
I remember shortly before the end Argentina had a free-kick and Lionel Messi stepped up. The ball sailed above our goal and it was our goal-kick. You see the long ball forward and you are just waiting for the referee… 'please blow the final whistle!'
When that moment comes you could hug the world. It was great to see all the staff, some of whom I had worked with for over 10 years - physios, doctors, fitness coaches, chefs, security staff - and to experience all of their joy. Then you walk up the stairs and you receive the medal.
You are standing in the stadium and get to lift the trophy. I would say those two hours, starting with the moments shortly before the final whistle, are just one of a kind. You will always carry those with you.
Has it sunk in that you're part of history and 100 years from now people will look at pictures of you receiving the World Cup?
Now I am aware of it. To lift the trophy with a team - and some individual players you have experienced so much with - was something very special.
I knew in that moment it was my final international match. So much is going through your head, but not the thought that you have just written history.
People will always remember this. It's such a big tournament which brings people together. We are a nation which is crazy and passionate about football. Many people sat in front of the TV and cheered the team on. They were able to identify with our team and our country.
That's the nice part and people always make comments to me about this. They tell me how they experienced this event. That's beautiful and special. And that's when you realise that people will come up to you and talk about this in 10, 20, 30 or maybe even 40 years.
Have you ever watched the game again?
No, I have watched some highlights, but not yet the 120 minutes in full length. I haven't watched any big game from my career in full.
Do you think you will?
I think so. At some point I will have the time to watch a match like the World Cup final or maybe the Champions League final in full.
Do you truly believe you would have retired from Germany duty if you hadn't won the World Cup?
I don't just believe that, I know it for a fact. I decided before the tournament that it would be my last.
What would have happened if we hadn't won it? Two years later we would have gone to the Euros and if we hadn't won there, then do I have to play for another two years? There are no guarantees for titles. The time was ripe for me. I realised I had had enough of international football.
I could now focus on Bayern in the final years of my career. I wanted to perform at club level and have some time off during international breaks. This was very important to me and so I made the decision well ahead of the World Cup, regardless of how it would end.
In tournaments like that you need a bit of luck in certain situations. We had that in 2014 and you cannot plan ahead to end an international career in this fashion, winning the World Cup title. For me, it really was a dream ending.
Was the 7-1 semi-final win over Brazil the most surreal moment of your career?
You could put it that way. You come into this semi-final against the hosts, and the hosts are none other than Brazil. You think it will be a tight affair over 90 minutes, maybe 120 minutes or even a penalty shootout.
It's a clash between two teams of huge quality. Both have tremendous history. But then it was 5-0 at half-time.
You just don't even consider that ahead of the game. Sometimes you still have to pinch yourself.
Our team showed us analysis of our games but also of our opponents. They showed us where and how we could create opportunities against Brazil. On that day, we executed the plan really well. Brazil offered us space just where we expected them to.
What are the strengths of the current Germany team?
You can see how well every player has been trained. They have been through a good level of technical training. And we have strong players in every position, also with a good level of experience.
We have young, dynamic players on one hand, but there are also players who have seen it all and been to a lot of tournaments. They have a certain naturalness in their game. It is not by accident that Germany are considered a 'tournament team'. That's why I feel the signs are promising for Germany to go very far in Russia. They are one of the favourites.
What is Joachim Low's secret to success?
His experience, first of all. He joined the coaching staff in 2004. He was assistant coach for two years and now he has been head coach for almost 12 years. He has an unbelievable amount of experience and he is able to handle the players very well. And he has an idea.
I think that is always the most important thing - to have an idea of how you want to play football and how to convey that idea to your team. And this has developed over the years. He has adapted things slightly. And that is how he has formed Germany into tournament favourites.
He has specialists around him - fitness coaches, doctors, physiotherapists - all of them working for him and for the team. That allows him to handle the intensity of training very well. When does the team need a recovery session? When can we work on our fitness?
He has experience on a tactical level as well. He knows when to intervene tactically and how to transfer tactical changes onto the pitch.
There are different ways of motivating. You have coaches who use a very emotional platform to motivate their players. But there are also coaches, and Joachim Low is one of them, who use a functional approach. These coaches motivate in a such a way that their players know exactly what they have to do. He is a very good motivator before games. Maybe it is a bit deceptive, but he doesn't use the most emotional team talks.
Could Low work as a club coach in a foreign country like England?
He is an excellent coach and could work as a coach everywhere. But there is a difference. I always find it really hard to compare coaches - especially when you look at national coaches and club managers. At a club, you work on a daily basis. You work on forming a team.
The difficulty with the national team is that you sometimes only have the players for four days. Afterwards, maybe you don't see each other for three or four months. That is not easy. I think those are two different things, national coach and club manager. You need to be able to do both, neither is easy.
What is important off the pitch at a major tournament?
I think the accommodation is very important. How can you strengthen the team there? You are not just spending time with the players or the coaching staff, there are many other people around you as well. Physiotherapists, fitness coaches, chefs, security, kit men - so many people are there. And all of them have to feel at home for a certain period of time.
They need to be comfortable, move about freely, enjoy each other's company, watch football. Or maybe they just sit together and drink coffee. That is the most important aspect - to have a home away from home for a short period of time.
When you think back to 2014, our Campo Bahia, it was home for us for a period of time. A very beautiful place. We all felt comfortable there and it gave us strength.
Who are Germany's rivals to win the World Cup?
I think the same teams as in every tournament. The big favourites are Germany. I also rate Spain very highly after seeing them in Dusseldorf against Germany. They played really well there. Brazil and France too.
I am excited to see England, because they have a very young team - let's see if they can access their quality in every match. That will be interesting. Croatia is not that bad and Belgium might play a role. I am excited to see it play out. But the top favourites are Germany, Spain, Brazil and France.
Would any of the England players potentially be good enough to start for Germany?
I think England have a great team. I think they took the right step; they took the right decision to rebuild. They brought in younger players and breezed through qualifying.
I think they are a good team, but the question is how that team can access their quality every four to five days. And what happens when they come up against a top team?
How important was Pep Guardiola for your career?
Pep has an idea which I rate as superb. How he prepares his sides is unbelievable - the analysis of your own game, but also the analysis of your opponent. He has an idea of how to face the opponent and he provides solutions for his players.
That was a perfect fit for my game. It was always a huge joy for me. I think he also used me a little bit to implement his style into the team. I had a lot of fun working with him.
What was it like when Guardiola said you were 'the most intelligent footballer he had ever worked with'?
It is a huge compliment. We just enjoyed sharing ideas about football. It was tremendous fun. And I think he also enjoyed talking to me about football. We had similar ideas. He always provided the players with solutions. It was a privilege for me.
What are you up to these days?
I am going to the World Cup for a few days in my role as a football official, as an ambassador for Germany's Uefa Euro 2024 bid. I have not gone away. I like football and I am very attached to football.
I am trying to create enthusiasm, because a European Championship in your own country would be such a positive event. I experienced the World Cup 2006 here, the excitement of people on the streets. It was a great festival. I viewed football with different eyes afterwards. It was unbelievable seeing that enthusiasm.
I have had my own foundation for 10 years. I have a holding where I have shares in various companies. I have a family at home. I don't get bored.