Brendan Rodgers targets continual improvement at Celtic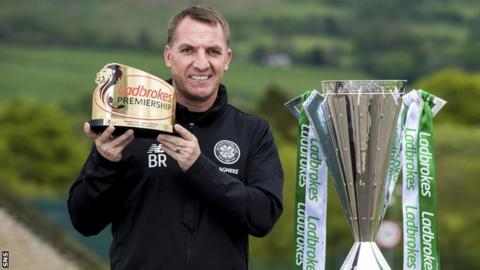 Scottish Cup final: Celtic v Motherwell
Venue: Hampden Park, Glasgow Date: Saturday, 19 May Kick-off: 15:00 BST
Coverage: Live on BBC One Scotland from 14:00, Radio Scotland & BBC Sport Scotland website and BBC Sport app
Brendan Rodgers says he expected a tougher challenge from Rangers next season even before they appointed Steven Gerrard as their new manager.
Rodgers led Celtic to their seventh successive top-flight title and is one match away from securing back-to-back trebles as Parkhead boss.
Rangers finished third in the league, 12 points behind their Glasgow rivals.
"I expect, whoever was in charge at Rangers, for it to be tougher [next season]," Rodgers said.
"That's how football works. Each year it gets tougher, and that will be no different whether it was Steven or anyone else. The competition was always there and will be again next season. We have to improve again, which we will do both individually and as a team.
"I've been up here a couple of years now and it's a tired cliche about the gap [between Celtic and Rangers]. I get asked about the gap closing - the gap is whatever it is and the important thing at the end of the season is to win the league."
'When the players had to turn up, they did'
Rodgers was named the league sponsor's Premiership manager of the year on Tuesday, with Celtic captain Scott Brown earning the corresponding player's award.
The Scottish champions have played 60 competitive games this term, and victory in Saturday's Scottish Cup final with Motherwell will secure successive domestic trebles.
"It was a great title win for us and it was more difficult than last year for a number of reasons," Rodgers, whose side beat the Steelmen 2-0 in November's League Cup showpiece, reflected.
"We had an incredible season last season, winning 34 games and drawing four, a record number of points and goals, and it was always going to be difficult to replicate that.
"What was key was winning the seventh title and we did that. We played some outstanding football and when the players had to turn up in big games, they did.
"I don't think fatigue will be a factor for this weekend. We lost our last game [against Aberdeen] and I felt the team that had the most need won the game.
"It's where I have huge admiration for the players because where we've had to be at our very best since I've been here, they've played to a really high level and I would expect the same this weekend."
'I don't expect wholesale changes'
Despite stressing the need for continual improvement, Rodgers does not expect to make sweeping changes to his squad over the summer.
Winger Patrick Roberts will return to parent club Manchester City as his second loan spell in Glasgow comes to an end, and the Celtic manager admits obtaining his services on a permanent basis will be difficult.
"We have to improve the squad again - part of that is looking to try and keep some players, but likewise we will look to bring some freshness into the group," the former Liverpool boss added.
"I won't expect wholesale changes but you have to react to what can happen. There are no plans to lose anyone, but at this point it's a case of looking to build, and there won't be drastic changes, but we want to bring in quality.
"Pat will go back to Manchester City; he's had a fantastic two-and-a-half years here. He's a player we'd love to keep, he's a fantastic young player, but the understanding has always been pretty clear that at the end of the season he'd go back to Manchester City and take it from there."