Lana Clelland: Scotland striker proud to follow path of legend Rose Reilly in Italy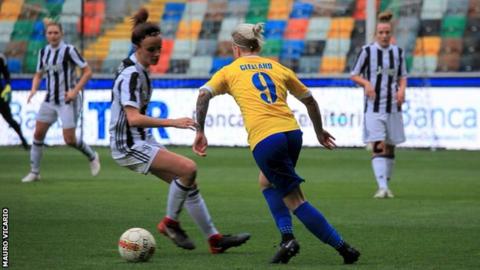 Four decades after a teenager from Stewarton made a bold move to the continent and became one of Scotland's greatest female footballers, another Scot is leaving her mark on the Italian game.
Rose Reilly played for nine different clubs across two decades in Azzurri country from 1973, winning eight league titles and switching allegiance to play for the Italy national team.
Lana Clelland, from Perth, has similarly embraced life in Serie A, where she plays for UPC Tavagnacco.
"Some people actually probably class me as Italian, they don't think twice about me being Scottish," the 25-year-old laughed.
"It's been an incredible experience, being able to live a different lifestyle and see how another country does it.
"It's completely different from the UK, but I'm loving it."
Clelland has some way to go to match the exploits of Reilly (now Peralta), who also won a French title, four Italian Cups, a World Cup playing for her adopted nation, two Golden Boot awards and was voted the world's best female footballer in 1983.
But after finishing last season as top scorer in the Italian top flight - with 23 goals in 21 games - and maintaining that impressive ratio this term, she is excited to be following in Reilly's footsteps.
"Honestly I didn't know anything about her until I went to Bari," Clelland said.
"The journalist there who interviewed me, his father had interviewed Rose Reilly and there's a photo of them and he was the baby in his dad's arms while he was speaking to Rose.
"From there I wanted to know more, as it's not often a Scottish person goes to plays in Italy.
"Ever since then, comparisons have been made as there's only been four foreigners who have won the Golden Boot - two Danes and two Scots - and I'm one of them, so I'm absolutely proud.
"We maybe didn't have the best season as a club so I didn't expect it. I scored a hat-trick in the last three games to win it, so it was a bit of a shock."
Clelland's season hit a stumbling block when she fractured a bone in her heel in December.
Initially she played through the pain, but eventually opted to undergo surgery in March, before returning to action in late April.
"I started the season really well, so was gutted when I picked up the injury," Clelland said.
"There was a part of the bone that came off and fractured into about 20 to 25 pieces, so it had to be taken out and cleaned out.
"But looking at my record, I've played 13 games and scored 13 goals so I'm delighted with that."
Tavagnacco finished third in the league, and are preparing for a Coppa Italia semi-final against Serie A runners-up Brescia.
"[Italian football] is a lot more tactical and technical," Clelland explained.
"It's maybe not as physical as other leagues in Europe and some people might say Italian football is known as being very defensive from the men's point of view, but the women's game is very much about attacking.
"I've learned a different style of the game that maybe I didn't have and that's only improved me as a player."
The former Rangers and Spartans striker made the move originally to Bari in 2014, before joining Tavagnacco, in the north-eastern province of Udine, close to the Slovenian border, five months later.
"The Scottish season had finished so I thought I'd give it a bash and if I liked it I'd stay, but if not, it would be a good experience and I'd benefit from playing a different style of football," she recalled.
"It worked out I guess."
While Clelland is now embedded in Italian culture and fluent in the language, she relishes coming home to play for Scotland.
She missed last month's World Cup qualifiers against Switzerland [a 1-0 defeat] and Poland [a 3-0 win], but hopes to return for the next double-header against Belarus [home] and Poland [away) in June.
"It's always an honour to pull on the jersey," said the forward, who has 20 senior caps and featured in the European Championship finals last summer.
"It's a little bit different coming home and sometimes I feel myself saying Italian words in training, but it's a delight being with the girls and Shelley [Kerr] being the coach is moving in the right direction and we're buzzing to try and qualify and get to France [2018 World Cup].
"I was absolutely gutted to miss out on the two games, but I'm back playing so hopefully I can get back in the squad. It's looking really positive - France is definitely where we want to be next summer."
Of more immediate concern to Clelland is her club future, with her Tavagnacco contract expiring next month.
"I've always said I would like to try the English [Super] League, but then again every single league within Europe is growing so much so I'm not concerned where," she said.
"It would just have to be the right move and the right club and team for me. Whether it's a move from Italy or within Italy, I'm not sure yet."
In the meantime, she is trying to leave a lasting impact on the Italian game like the inspirational Reilly, who also had to battle the boys for a kick of the ball growing up.
Clelland has recruited Tavagnacco team-mates to join her on regular school visits.
"Being able to inspire other girls is massive and every female footballer in this day and age should be proud to help the younger girls and show them that's it's not just a game for the boys.
"You actually can make a job and a living out of your dream."