Gary Rowett: Derby boss expects prudent approach to summer transfers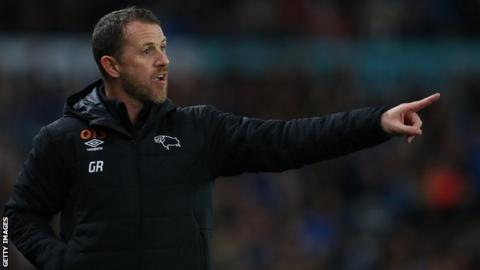 Derby County boss Gary Rowett expects to face a more prudent approach by the club in the transfer market this summer after defeat in the Championship play-off semi-finals against Fulham.
The Rams have been among the league's biggest spenders in recent seasons.
Owner Mel Morris had said the books must be balanced if they did not go up.
"I'd want to make sure we're in a position to still challenge regardless of what we have to do financially," Rowett told BBC Radio Derby.
"Any manager would tell you that you would love to get in the play-offs and have a summer where you can recruit very strongly and try to improve the side.
"But the reality is, after lots of years and lots of managers doing that, I am the manager who has to balance it all out a little bit more."
The Rams were beaten 2-0 at Craven Cottage on Monday, with the Londoners earning a 2-1 aggregate success.
But Rowett said he needed to discuss the summer plans with Morris and the board after a period of reflection when the defeat against Fulham was not so "raw".
'Coming up short'
"We showed a lot of character to get into the play-offs in the first place," Rowett added.
"We know that we put ourselves in a very difficult position with our form after Christmas.
"It's been a little bit of a rollercoaster season for the fans, and once again, to get into the top six, we have to say that it is reasonable success, but we wanted to go further.
"The players over the two legs have given everything; they have worked incredibly hard.
"We gave ourselves a fantastic opportunity after the first leg when we were defensively faultless. But in the second leg we weren't faultless and we didn't show enough composure on the ball. We needed to attack with a little bit more quality.
"These are probably some of the reasons why we have come up short a little bit. Sometimes you have to handle the disappointment.
"The fans were magnificent. I feel sorry for them coming all the way down here and not getting a big performance against a good Fulham side, who I expect to go on and win the final."