Alex Oxlade-Chamberlain gifts young fan with Champions League tickets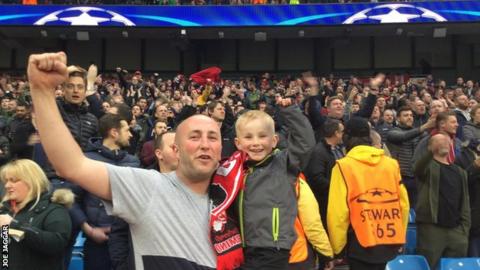 Liverpool fan Joe Jaggar was facing the prospect of telling his four-year-old son that their dream trip to the Champions League final wasn't going to happen.
The flights to Kiev were booked, but the family weren't among the lucky 16,000 people who got tickets in the ballot for the game against Real Madrid.
Enter Alex Oxlade-Chamberlain to save the day.
"I went to bed on Friday night in a stinker of a mood. I fell asleep and woke up about 4:30am and scrolled through my notifications, when I saw two messages from Alex Oxlade-Chamberlain saying he had got me two tickets," explained Joe.
"I started crying when I saw the messages. I'm not even ashamed to admit that. I couldn't believe what lengths he had gone to for me and Bobbi."
Joe lives in Cumbria with wife Claire, eldest son Jay, 12, daughter Lola, eight, and youngest Bobbi.
Bobbi previously made the headlines back in April, when he was given the Ox's match shirt following the Reds' 2-1 win over Manchester City, after the midfielder went over to hug Bobbi and presented him with the memento.
After watching the Reds book their place in the final on 26 May, Joe was determined to make the trip to Ukraine.
"I booked flights to the final in the taxi coming home from John Lennon Airport after the Roma game. Everyone was asleep and I quickly got three seats before the priced rocketed," Joe told BBC Sport.
"It's a direct chartered flight especially for the game.
"I booked three tickets for me, Bobbi, and my dad. We had four chances at the ballot, and also knew quite a few people who had entered it too.
"But then I got the email saying I had been unsuccessful, so I tried my best, but every avenue I went down, I just couldn't get any. I just kept hitting a brick wall.
"It was soul-destroying to be honest, but we were going to go regardless of whether we had a ticket."
England midfielder Oxlade-Chamberlain, who will miss the game through injury, became aware of the family's issue on social media and messaged via Instagram to say he had a pair of tickets for them.
"I tried waking Bobbi up but he was fast asleep, so my wife told him in the morning. He said 'Really, dad? For the Real Madrid game?'. It will be his first European away.
"He is Liverpool mad and after going to the games against Porto, Man City and Roma he was desperate to watch the final in Kiev.
"There are no words to say what it means to us. Bobbi will never forget it - I'll make sure he doesn't."
Joe and Bobbi will be travelling to Kiev with his 65-year-old father Colin - who managed to get a ticket via a friend.
"Oxlade-Chamberlain is the most humble guy, and he doesn't even realise that what he has done is such a grand gesture," added Joe.
"Alex just oozes class. He will never know how much this means to me and Bobbi. We are so grateful for his generosity."