Michael Carrick: Man Utd coach on 'overnight' switch from player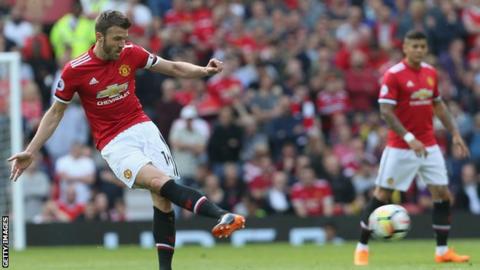 FA Cup final 2018: Chelsea v Manchester United
Date: Saturday, 19 May Time: 17:15 BST
Coverage: Live on BBC One and BBC Radio 5 live, and available to stream on the BBC Sport website, app and iPlayer
Manchester United's Michael Carrick says he switched "overnight" from being a player to a coach in readiness for Saturday's FA Cup final at Wembley.
The 36-year-old former England midfielder ended his playing career against Watford on Sunday after 12 seasons and 464 appearances for United.
He is now focused on his role as a first-team coach, starting with this weekend's match against Chelsea.
"I am not training this week. I am going to jump on the staff," he said.
"I'm there to give my opinion. That's part of being on the staff - to work with the manager in trying to get what's best for the club."
Carrick, who signed his first professional deal at West Ham in 1998, made more than 700 senior appearances in a career spanning 20 years. He also won 34 England caps.
And he says he will not be tempted to follow former team-mate Paul Scholes in coming out of retirement in the future.
Scholes announced his retirement in May 2011 before returning eight months later, adding a Premier League winners' medal to his collection in 2012-13.
"It was an unbelievable reception when I came off," Carrick said of Sunday's match. "Special memories, things you cherish.
"The final chance to cut the cloth clean. Because I've got things, I'm kind of more excited about the future than looking back and being sad that it's over."
'Working with one of the best'
With Jose Mourinho's current assistant Rui Faria leaving the club in the summer, the United boss has intimated that Carrick could be his number two in the future.
Carrick says he had once considered taking a break at the end of his career, but the opportunity to work with Mourinho was too good to turn down.
"He is one of the best," Carrick said.
"He's been around for many years. It all fits in. I've been at this club, such a great club, I obviously know the club and manager, learning off him, the backroom staff, trying to bring the kids through and have an influence on that. It just fits. Hopefully it still fits in a couple of years' time.
"A couple of years ago I thought maybe it would be a good thing to spend time with the family but then it's about timing and opportunities.
"As soon as this came up I didn't think twice. It's not an issue. I've got six or seven weeks off after the cup final."
Do great players make great managers?
Carrick's move to the dugout means he is the latest former United player to move into coaching.
Wales boss Ryan Giggs and England women's head coach Phil Neville are two high-profile examples, but Carrick stresses that being a good player will not automatically make him successful in his new role.
"Just because I was a half-decent player it doesn't guarantee you're going to be a success in whatever you do. I'm well aware of that," he said.
While replacing a player of Carrick's calibre is problematic, the reality is United have familiarised themselves with that conundrum during the season.
An irregular heart rhythm limited the midfielder's first-team involvement, and his final appearance against Watford was just his fifth match of the campaign.
With Mourinho previously expressing a desire to find a suitable alternative to Carrick upon retirement, United's new first-team coach has backed the club to find a solution in the same way they did when he was asked to follow former captain Roy Keane in 2006.
Carrick - signed for £18m from Tottenham - joined the Red Devils seven months after Keane's departure.
"We've lost big players in the past. Huge players, bigger than me, and the club has moved on and still been successful. I'm sure that will be the case again," Carrick added.
"I had the issue when I signed and it was all about Roy Keane, but I was never going to replace Roy Keane because it's not how I am.
"You've just got to evolve and find a way. There will be other players. There will be players here who will improve and progress and if anyone gets brought in, whoever gets brought in, the club will move on."
My Chelsea and Man Utd XI