Harry Redknapp: Veteran boss says he would like return to management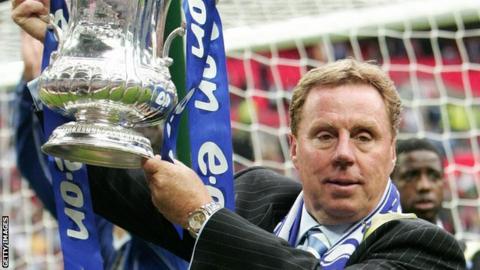 Former West Ham, Portsmouth and Tottenham boss Harry Redknapp has said he would like a return to management.
The 71-year-old has been out of the game since being sacked by Birmingham City in September.
Redknapp, speaking to BBC Radio Solent to mark 10 years since Pompey's FA Cup win, said: "I could still do it. I still feel as good as ever and I wouldn't have a problem doing it.
"Given the opportunity to go in and build a team, I know I'd do well."
Redknapp managed Portsmouth to a 1-0 win over Cardiff City in the 2008 FA Cup final, the only trophy in his career to date.
He had two spells in charge of the Fratton Park side, leading them to promotion to the Premier League in his first stint before leaving for rivals Southampton in 2004.
After his sacking by Blues he suggested that there was "every chance" that he would not manage again.
However, he defended his record at St Andrew's, saying: "I wasn't going to go back but I went in at Birmingham when I got a phone call with three games to go.
"They'd won one in 25 but I took the chance, took the job, won two games and kept them up.
"I came back this year, brought some players in on transfer deadline week and before I'd been given the chance to give them a game, seven games into the season I was gone. It was a crazy situation."
Harry Redknapp was speaking to BBC Radio Solent as part of a special documentary "When Sol went up to lift the FA Cup" marking 10 years since Portsmouth won the Cup.
The one-hour special is on 11:00-12:00 BST and 18:00-19:00 BST on Thursday, 17 May, or listen again here.