Graham Alexander: Salford City appoint ex-Scunthorpe manager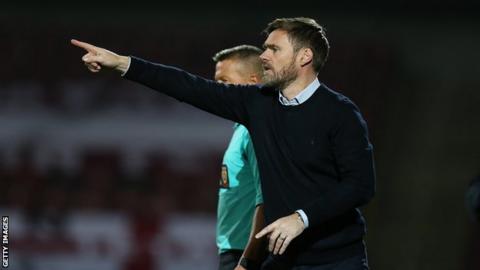 Salford City have appointed former Scunthorpe and Fleetwood boss Graham Alexander as their manager.
Alexander, 46, won 40 Scotland caps. He has signed a four-year deal with next season's National League newcomers.
Salford, owned by a group of ex-Manchester United players including Ryan Giggs and Gary Neville, have been promoted three times in four seasons.
"I have just left a job at the top end of League One but sometimes you have to take a leap of faith," said Alexander.
Alexander made 981 appearances in a 23-year club career that included spells at Scunthorpe, Luton, Preston and Burnley. He was sacked by the Iron in March following a winless run of eight games.
Neville told the BBC: "The amount of games he has played shows a level of character, personality, toughness, resilience and professionalism that we want."
Joint-managers Anthony Johnson and Bernard Morley left Salford by mutual consent last week despite winning three promotions in a tempestuous four seasons at the club.
Neville said: "It had been coming for 12 months.
"They are the most intense, demanding winners. We are intense and stubborn owners. They felt let down over things they thought we had promised. We didn't think we had.
"We both needed to jump off the roundabout. It was spinning very fast."
Alexander added: "As a manager you have to look for certain aspects of what can be achieved at a new club and the possibilities here are boundless.
"There is a great deal of work to be done on and off the pitch to fulfil the potential of Salford City and I can't wait to get started."