Sorry Swansea City lose their way to end Premier League stay
By Dafydd Pritchard
BBC Sport Wales
Last updated on .From the section Swansea50
The moment at which Swansea City lost their way is a moot point; that they have lost it is beyond doubt.
Once a shining example for those looking to defy the odds and establish themselves in the Premier League, the Swans' halo has now slipped.
An erstwhile distinctive, passing playing style is now lumpen and directionless, the supporters' voice has waned in influence, while managerial and boardroom upheaval has created a turbulent backdrop to the club's relegation to the Championship.
It is a far cry from their fairytale ascent up the leagues and the uplifting success story of their early years in the Premier League.
Now their seven-season stay in the top flight is at an end, they need to rebuild - and not merely on the field. Swansea must rediscover their identity.
"If you don't have the results but the identity, then you will bounce back sooner or later," former manager Michael Laudrup told BBC Sport Wales.
"But if you don't have an identity and the results are not there, then what remains?"
What went wrong?
Swansea's rise from the fourth tier to the Premier League - achieved in just seven years between 2004 and 2011 - was overseen by a succession of visionary young coaches.
Roberto Martinez and Brendan Rodgers were the most influential proponents of a possession-based playing philosophy, and Laudrup carried the flame as he led the club to a first major trophy - the League Cup - and an improbable run in the Europa League.
His successor, former club captain Garry Monk, enjoyed a successful start but his 2015 exit set in motion a period of chaos which leaves the Swans looking for a fifth permanent manager in 19 months.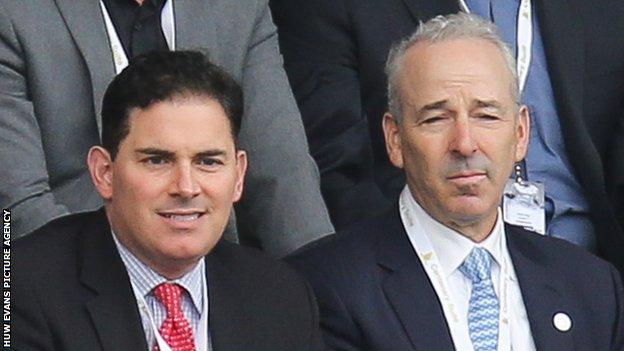 While the team lurched from one crisis to another, the club's takeover by an American consortium in 2016 caused deep divisions, with the supporters' trust - a 21.1% stakeholder - aggrieved not to have been consulted about aspects of the shares sale.
A once harmonious environment is now one of discord, as was clear on Sunday when confirmation of Swansea's relegation fed a poisonous atmosphere at the Liberty Stadium, with fans venting their anger towards majority shareholders Steve Kaplan and Jason Levien, and calling for chairman Huw Jenkins to resign.
"I think we have been playing with fire this season and now this has happened," says Angel Rangel, who made his 374th and final appearance for Swansea against Stoke.
"We need to make sure now we build back up and bring the style back. That is the only way we are going to survive and bring this club back to where it belongs."
Who will the new manager be?
Carlos Carvalhal was the latest manager to be given the onerous task of pulling Swansea from the fire, and he threatened to repeat Paul Clement's trick when he hauled the Swans off the bottom of the table and out of the relegation zone with 17 points from his first nine games.
However, his impact on the players deteriorated, and his well of analogies - seemingly bottomless when the going was good - began to run dry as Swansea collapsed.
A run of nine games without a win means his contract will not be renewed when it expires this summer, leaving the Swans to return to what is becoming a biannual club tradition of searching for a new manager.
They have had quick fixes, with Francesco Guidolin and Clement steering them to safety in 2016 and 2017.
But both failed to build on their initial success, dismissed without being able to complete a full campaign.
And in the case of the man who came in between them, Bob Bradley, his entire tenure lasted less than three months.
Somehow Swansea kept finding a way of stemming the tide just in time but, after one patch-up job too many, the dam has burst.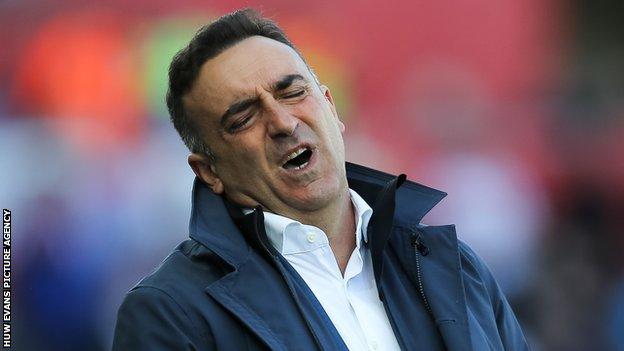 "Whenever we appointed a manager [in the past], they would always fit into our system and our way of playing," legendary former Swans player and coach Alan Curtis told BBC Sport Wales.
"I think in the last couple of years we've been bringing people in to fire-fight and, along the way, we have lost that philosophy and style of play."
So how will Swansea try to avert this latest crisis?
Will they turn to a Championship old hand, an established member of British football's old boys' network?
Or will they try to revive the 'Swansea Way' with a bold appointment of a possibly less experienced but hungrier, more progressive coach?
Graham Potter has again been linked after orchestrating a Swans-esque rise with Ostersunds - from the Swedish fourth tier to the Europa League - and Swansea's under-23s boss Cameron Toshack is highly regarded by club bosses.
Elsewhere, Nathan Jones' free-scoring Luton Town secured League Two promotion with a swagger, while Dean Smith has nurtured young players and maintained a crisp passing style at Brentford.
Will there be changes behind the scenes?
Managerial comings and goings are a given, but the tribulations of recent seasons have prompted many of Swansea's fans to demand change at boardroom level.
The supporters' trust has called for Jenkins to leave, a formal endorsement for the views of several fans who have saved some of their strongest vitriol for the chairman and his fellow directors who sold their shares in 2016.
Jenkins admitted earlier this season that he would review his position at the end of the campaign, and now he faces arguably his sternest challenge since leading a local consortium's takeover of the then financially ruined club in 2002.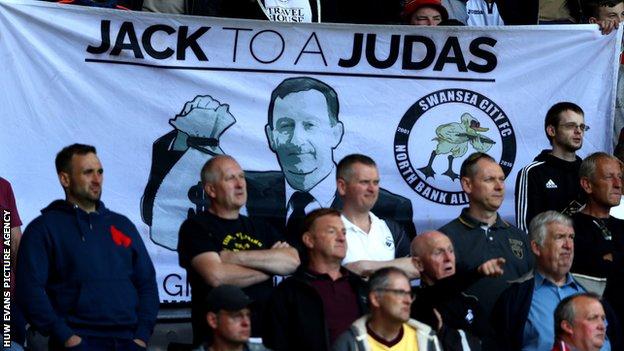 "We have said publicly we think Huw should be replaced and that's part of the review we are calling for," said Trust chairman Alan Lewis.
"The Americans need to look carefully and the poor recruitment needs to be resolved."
The club's American owners, Kaplan and Levien, have also accepted their responsibility for the club's plight and, after dire recent dealings in the transfer market, they have suggested there could be changes to the club's recruitment process this summer.
Can Swansea bounce back?
Bigger clubs than Swansea - such as Aston Villa, Derby and, most bleakly, Sunderland - have shown there is no guarantee of making an instant return to the Premier League.
The Championship is an increasingly competitive division and the gap between the second and top tiers appears to be closing, with all three of the teams promoted to the top flight last season - Newcastle, Brighton and Huddersfield - securing their survival.
While Swansea want to be back in the Premier League sooner rather than later, there is also an appetite among players and supporters for a major overhaul.
Leon Britton embodied the 'Swansea Way' more than anyone, representing the club in all four divisions and playing a hugely influential role in the implantation of their possession-based style.
The diminutive midfielder made his 537th and final appearance for the club on Sunday before retiring, and he would rather Swansea take their time in rebuilding if it means restoring the club's identity.
"It worked so well for us as a football club, but in the last two or three years we've come away from that," said Britton.
"I think being in the Premier League you do all you can to stay in the league, so the football kind of fell away.
"Going down gives us an opportunity in the Championship to rebuild and get back to that. If it takes us, two, three, four years to get back in the Premier League, so be it.
"But then when we do come up, we will have that philosophy and idea about what we were doing before."