Celtic: Scott Brown says winning the Premiership title gets better every year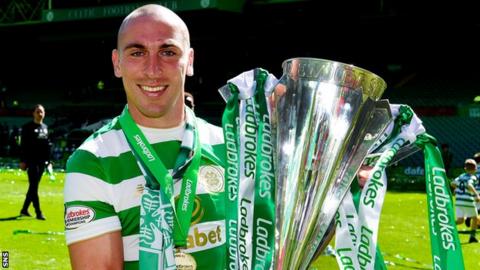 Scott Brown insists winning the Scottish Premiership gets sweeter every year after Celtic lifted the trophy for the seventh time in a row.
Brendan Rodgers' side lost 1-0 at home to Aberdeen on Sunday but that took none of the shine off their title triumph, with Brown having been part of all seven successes.
"Every year it gets more special and more emotional, especially doing seven in a row," Brown told BBC Scotland.
"It's amazing to be perfectly honest."
Celtic face Motherwell in Saturday's Scottish Cup final knowing a win will secure unprecedented back-to-back trebles, with Rodgers' side having completed a domestic clean sweep without losing a match last season.
"We let ourselves down a little bit today but at the end of the day we'd already won the title," Brown, 32, added.
"It was always going to be hard to do the exact same as we did last season, but we keep winning trophies and we have one more we need to do. We need to make sure we win it.
"We've played 60 games so far this season and we keep pushing at this level.
"Those big games and big occasions, we need to make sure we turn up and we have done in the past."
Andrew Considine scored the winner for Aberdeen, securing second spot in the table for the Pittodrie men.
Celtic boss Rodgers was disappointed with the result and admitted "the team with the greater need got the result".
He added: "It's the bigger picture for us and I can't forget the work the players have done - you enter a league to win it and they have done that. I'm delighted.
"In my first season we won it in the best way we possibly could. We didn't quite match that this year but in the big games, the players have produced and it's great credit to them.
"It's important to celebrate today but we focus on next week and hopefully we can finish off a remarkable season.
"There were lots of performances - the recent game against Rangers will live long in the memory as it capped off a great campaign for us."
The Celtic players savoured the moment in front of their adoring fans on Sunday and left-back Kieran Tierney said: "Being a lifelong Celtic supporter, to celebrate in front of the fans is a dream come true for me.
"It's been a great season and I'm delighted. There's no words to describe it, I'm so grateful to every single fan for the support they have given me and I try my best to repay it."