Champions League final in Kiev 'needs explaining' - Liverpool fans chief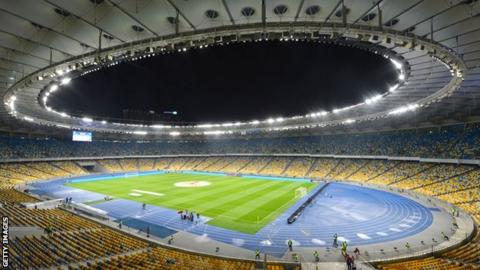 The decision to hold the Champions League final in Kiev "needs explaining", says Liverpool's head of club and supporter liaison.
Liverpool face Real Madrid on 26 May at the Olympic Stadium in Ukraine.
Fans have faced soaring flight fares and inflated hotel prices, while the club were allocated 16,626 tickets.
"It suggests something in football is badly broken when the lifeblood of the game can be treated this way," tweeted Tony Barrett.
"The decision to hold the final at a location which is so difficult and so extraordinarily expensive to get to is one that needs explaining by those who made it."
He added: "To every Liverpool fan who is having a nightmare - and I use the word nightmare deliberately, not loosely - arranging travel to Kiev I can only apologise. What should be one of the most exciting times of your lives is currently anything but and that, to me, is inexcusable."
BBC Sport have contacted European football governing body Uefa and Barrett for comment.
Return flights are going for as much as £1,400, while Kiev residents have offered free accommodation for visiting fans after local hotels dramatically increased their prices.
Despite the Olympic Stadium having a 63,000 capacity for the final, only 33,252 tickets have been allocated to Real and Liverpool, plus 6,700 available to worldwide supporters.
The rest will consist of hospitality members, rights holders, commercial partners, officials, players past and present and media.