Rui Faria: Manchester United assistant manager to leave Old Trafford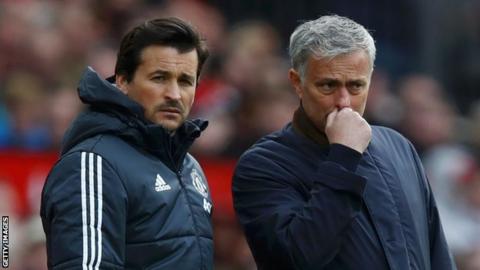 Manchester United assistant manager Rui Faria is to leave the club.
Faria joined the side two years ago after Jose Mourinho was appointed as manager and the two have worked together for more than 17 years.
"After a lot of consideration, and with a very heavy heart, I have decided the time is right for me to move on," said the 42-year-old Portuguese.
Mourinho added: "The intelligent student is now a football expert, ready for a successful career as a manager."
Mourinho said of the pair's career-long association: "17 years… in Leiria, Porto, London, Milan, Madrid, London again and Manchester. Training, playing, travelling, studying, laughing and also a few tears of happiness.
"17 years and the kid is now a man.
"I will miss my friend and that is the hardest thing for me, but his happiness is more important and, of course, I respect his decision, especially because I know that we will always be together.
"Be happy, brother."
Faria, who will leave at the end of the season, added: "I have had 17 years of incredible and unforgettable experiences.
"However, I have felt for some time that I would like to spend much more quality time with my family before pursuing any new challenge in my professional life.
"My heartfelt thanks go to the manager, Jose Mourinho, for the belief he had in me, all those years ago, when it all was just a student dream."
United, second in the Premier League, play Watford at Old Trafford on Sunday before facing Chelsea in the FA Cup final on 19 May.
Analysis
BBC Sport's Simon Stone
I have been told categorically that the only reason Faria is leaving is because, after 17 years by Mourinho's side, he needs a break, that he has been thinking about the move for some time and has no other job lined up.
Nevertheless, two points come to mind.
Firstly, assistants to successful managers tend to get job offers if they put themselves on the market. Steve McClaren and Carlos Queiroz did so from Manchester United; Paul Clement did it after serving his time under Carlo Ancelotti.
There are countless other examples, so, should Faria so choose, with his grasp of languages, a decent job won't be too long in making itself available.
Secondly, it puts Michael Carrick's move onto Mourinho's staff next season into a whole new light.
There has been a feeling for a while United quite like the idea of a former player in the top job.
Mourinho has signed an extension that will keep him at Old Trafford for another two years.
If he fulfils it, it would be as long as he has done in any job - it would also mean he has done well and, therefore, so has his staff.
That would put Carrick in a very good position to get the role himself at some point.