Tranmere Rovers aim to establish themselves in EFL again after dramatic promotion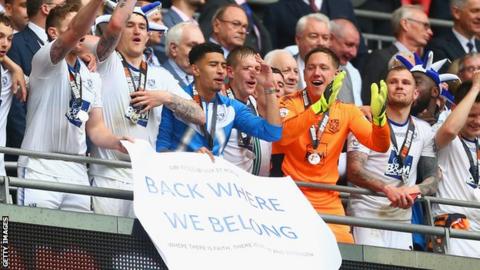 Tranmere Rovers boss Micky Mellon says the club will work hard to establish themselves in the EFL once again.
Rovers won a dramatic National League promotion play-off final at Wembley, beating Boreham Wood 2-1 despite playing with 10 men for 89 minutes.
"It's important that we kick on from here," said Mellon after the win.
"You have to earn the right to be in the Football League, you don't belong there. You have to work very hard to get back in and we've done that."
Rovers were relegated from League Two in 2015, ending a 94-year stay in the Football League.
They missed out on the play-offs by one place in 2015-16 and finished second last season, but failed to return to the EFL after losing to Forest Green Rovers at Wembley in last year's promotion final.
But with the highest average attendances in non-league football and a history that includes 11 seasons in what is now the Championship, including a fourth-placed finish in the second tier in 1993, Mellon says dropping back out of the EFL for a second time is unthinkable.
"It can't happen again," he told BBC Radio Merseyside. "We've got to keep going and make sure we keep moving forward and building this club.
"You see the potential, it's massive. People want a strong football club representing them in the Wirral area and in Merseyside, so we have to keep working hard at that."
Mellon 'a great manager'
At the end of August Tranmere were 19th in the fifth tier, and more than a month later that had only risen one place, but chairman Mark Palios said he always had faith that former Fleetwood and Shrewsbury boss Mellon would turn it around.
"In September when people were saying 'sack Micky' but my view was 'he's a great manager'," he told BBC Radio Merseyside.
"I felt that as long as we stayed in the pack, we were creating chances and actually if we were in the pack by Christmas we'd have a good run in the second half of the season.
"This is a league club. In fairness to all the guys in the National League, they all recognise that and there's a lot of people who have said they're really pleased for us to go back up.
"My view is it's good for Merseyside to have us back in the league again."