Marko Arnautovic's form and a fan protest kept West Ham up, says David Moyes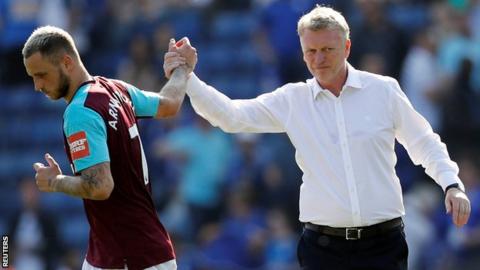 A fan protest and the form of Marko Arnautovic were the turning points as West Ham secured Premier League survival this season, says David Moyes.
Supporters invaded the pitch during a 3-0 home defeat by Burnley in March.
Meanwhile, Moyes replaced Slaven Bilic as boss in November, moving Arnautovic into a centre-forward position and seeing him score 10 times since.
"He's been a sensation up front, he's been playing as well as most strikers," Moyes told The Friday Football Social.
"Maybe he wasn't doing as much and not tracking back on the wing. Him going up front made a big difference."
The 29-year-old Austria international had predominantly been playing out wide since arriving from Stoke in the summer.
"The team think Marko has been the outstanding factor," added Moyes. "He's a big threat to whatever centre-half he is up against.
"Whoever he's up against he looks as if he can beat them, outrun them, he is stronger than them.
"At Stoke his technical abilities weren't in question. His attitude and commitment, at times you would look and think 'is he really interested?'. But he looks a different man up front, it's given him a bit of freedom, maybe not the responsibility of playing wide.
"It's made a big difference to the team."
'Risk for me taking West Ham job'
During the defeat by Burnley, at least two fans went onto the pitch after the visitors took the lead - with one approaching Hammers captain Mark Noble.
Another ran on with a corner flag shortly after Burnley scored their second, with further incursions after the Clarets struck a late third.
It was a third successive loss for Moyes' side and one that left them three points above the relegation zone. They have now climbed to 15th, securing Premier League football for next season.
"The other point was the game against Burnley when the supporters ran on the pitch," said Moyes.
"We went away afterwards as a group and we got a bit of criticism at the time, it may be the bravest thing I've done - the players pulled together and since we came back we picked up some really good points."
The 55-year-old Scot replaced Bilic with West Ham sitting 18th in the table, and says it was he who was taking a risk by going for the job.
"When we took over, we were on nine points in the bottom three," added the former Everton, Manchester United and Sunderland boss.
"People might have thought it was a risk for West Ham to take David Moyes - but I didn't think it was. It was a risk for me to take a job in the bottom three."