Aberdeen: Derek McInnes will have ears on Easter Road for final day drama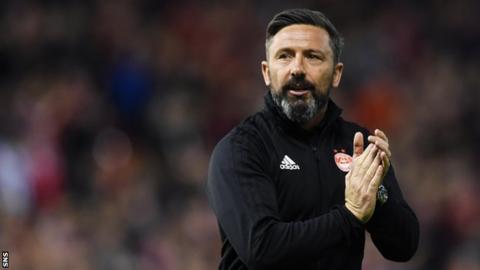 Derek McInnes admits he will be keeping close tabs on events at Easter Road on Sunday as his Aberdeen side look to hold off Rangers' push for second spot.
The Ibrox side visit Hibernian on the final day of the Premiership season having to better Aberdeen's result at Celtic Park to snatch second place.
"I think we will have to be mindful, maybe even at half-time, of what the score is as it might affect what we have to do," Dons boss McInnes said.
"We might need to go chase the result."
The Dons, who are a point ahead of third-place Rangers, have lost 10 games in a row to Brendan Rodgers' all-conquering Celtic and have lost 25 in a row in the league at Celtic Park.
"If Rangers are winning then we have to go and win too," added McInnes. "If the game is in the balance then there might be a point where we have to go for it.
"But we are going down there with the intention of having to win the game - that's the way I'm feeling.
"I don't want to be dependant on Hibs beating Rangers. I want to be dependant on my own team getting what we need.
"So, from the start of the game I'm expecting us to have to win but that might change as we go along."
The Dons ended a run of three defeats against Rangers this season by earning a 1-1 draw at Pittodrie on Tuesday night.
And while McInnes was pleased with his side's display, he says they will have to step up a level if they are to topple Celtic.
"You have to beat good teams to achieve anything," said McInnes. "The other night against Rangers I thought it was far more like us. The competitive side was better and it has to be far better again when we play Celtic.
"In each of the games we've played them this season, Celtic have deservedly won the game but there has been good spells in each of them where we could have done better.
'There is a danger of being too relaxed'
"It's important when these good spells happen on Sunday we make the most of them.
"Against Rangers, we gave ourselves a chance of a result through our performance. But it will need a far improved performance against Celtic to get something."
Hibs' defeat by Hearts on Wednesday has guaranteed Aberdeen another Europa League campaign but McInnes does not want his side thinking their work is done for the season.
"I don't think the Hibs result takes the pressure off," he said. "I'm happy for us to go in relaxed and try to show ourselves. But there is a danger of being too relaxed.
"I'm delighted we're back into Europe as that was something very important to us and it's brilliant to have achieved that for the fifth season in a row.
"But finishing second is what we've been looking at for a while and it's very important to us.
"Hopefully the performance of the team will illustrate how important it is to myself and everybody else at the club."