Neil Lennon: Hibernian's Garry Parker expects head coach to stay despite quit threat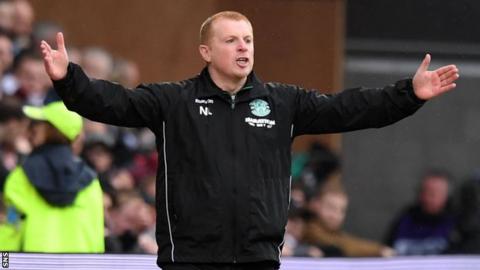 Hibernian assistant Garry Parker expects head coach Neil Lennon to remain at Easter Road - despite his threat to quit in the summer.
Lennon said he was considering his position after the midweek defeat in the Edinburgh derby ended hopes of finishing second in the Premiership.
However, Parker believes Lennon's reaction was "heat of the moment" amid frustration over the loss to Hearts.
Parker took Hibs media duties on Friday after Lennon had "slept in".
Lennon had already arranged for Parker to oversee training but was due to arrive later to speak to the media ahead of Sunday's game against Rangers at Easter Road.
"He's okay. He has had the flu for the last couple of weeks," said Parker. "He is at home in Glasgow. He's overslept. His wife woke him up and then he has gone back to sleep. Which is in fact a true story. He will be coming in at some point today but when I don't know."
'Heat of the moment'
Parker says Lennon's talk of "considering his future" was purely down to the disappointment of losing the derby.
"That was the heat of the moment. You know what he is like. He is a winner. After a game things don't go his way he just lets it all go. He doesn't like getting beat at anything. Cards, anything and he loses it. He just says a few things."
When asked if he expected Lennon to still be at the club next season Parker replied, "I would think so yes. Why not? It was just heat of the moment."
Midfielder Marvin Bartley said the players were shocked to hear Lennon was considering his Hibs future in the wake of the loss to Hearts.
"That's a decision for him to make and we can't really worry about that," said Bartley. "He would be a loss; if any players leave in the summer then they'll be a loss as well.
"But the club remains and you just need to get on with it and keep going, regardless of what happens. The club will always be there - players and managers will come and go.
"We thought that we'd had a very good season for our first season back in the top flight. But he's his own man and has his own thoughts. We were as shocked as everyone else."