Phil Brown: Swindon Town chairman Lee Power backs boss to earn promotion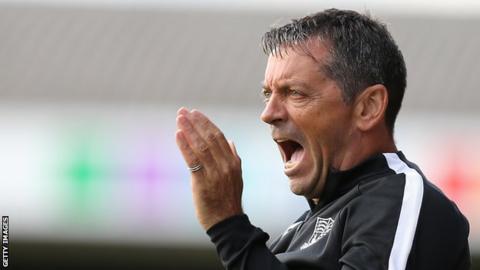 Swindon chairman Lee Power says Phil Brown's 'passion' earned the manager a two-year deal, despite a League Two play-off spot slipping away.
Brown, 58, registered just two wins in 10 League Two games after taking over from David Flitcroft in March as the Robins slid out of the top seven.
But Power says he is certain Brown will take Swindon back up to the third tier.
"He's probably one of the most passionate managers I've had in my tenure," Power told BBC Wiltshire.
"Sometimes you have to look beyond results.
"I thought it was key to try to get some stability into the club and you only have to look through his record and where he's managed to know it will be a great appointment."
Power continued: "Obviously, the results were disappointing. No-one was more disappointed than Phil. But he's been very, very positive and from an early stage he was very keen to keep the job.
"He's only been here 10 weeks but he has fallen in love with the area, the supporters and the club itself.
"We had to put someone in place for next season to try to get out of this league again and I feel Phil will be the person to do that."
The chairman also suggested that Town's ex-Liverpool goalkeeper Lawrence Vigouroux - loaned out to Irish side Waterford by previous boss Flitcroft - has a future under Brown.
He added: "I was very, very surprised that he (Flitcroft) wanted to let Vigs go.
"He's been sensational for Waterford. I've had a lot of clubs already ask what he's going to be doing next season.
"If we can keep hold of him - and I know Phil feels the same - he's going to be such an important cog for us."