Neil Lennon: Hibernian boss's 'burning desire to succeed' led to quit threat - Kris Commons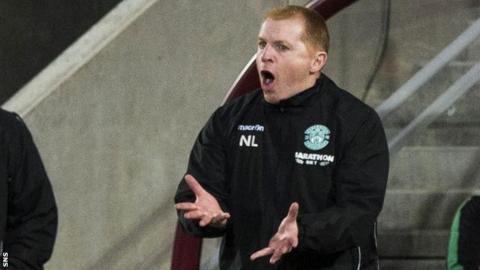 Neil Lennon's "burning desire to succeed" led to his post-derby threat to reconsider his position as Hibernian manager, believes Kris Commons.
The Northern Irishman made his shock revelation after a 2-1 defeat by Hearts ensured they can no longer finish second in the Premiership this season.
They will only finish third if they beat Rangers by six goals on Sunday and Lennon said fourth is "unacceptable".
"His head was all over the place," Commons told BBC Sportsound.
"The reality has sunk in that they couldn't finish second, and that third is probably out of reach.
"He said fourth was unacceptable, but I think for a Championship team to get promoted and almost guarantee European football at the first attempt is remarkable."
Lennon confirmed after Wednesday's defeat that Dylan McGeouch, who has enjoyed a superb season, will leave under freedom of contract this summer after opting not to sign a new deal.
Fellow midfielder John McGinn, who has a year left on his contract, could also be a target for bigger clubs, while loan deals for Scott Allan, Brandon Barker, Florian Kamberi and Jamie MacLaren expire at the end of the season.
"I think what Neil will be frustrated about is the quality of player he will be losing this summer," said Commons, who played under Lennon for three seasons at Celtic and during a loan spell at Hibs last season.
"It is his desire to achieve above and beyond. He is a born winner.
"In your first year [at Hibs] you get promotion, in your second year you almost guarantee European football, then in the third year… if they lose those top players and don't replace them like for like, they will struggle to get in the top six. He has a burning desire to succeed."
Lennon criticised his players' professionalism after the Tynecastle defeat, accusing some players of slipping "like Bambi on ice" because they were wearing the wrong boots.
He also lamented their "pathetic" defending for both goals.
'It is too harsh on the players' - Thompson
Commons believes Lennon, who is scheduled to speak to the media again on Friday, may have "a slight regret" at remarks he made about his players, given "all the emotions going through his head all at once".
Former Rangers and Scotland striker Steven Thompson believes Lennon was wrong to castigate players who had lost only one league game in their last 17 prior to Wednesday.
"He has a clear frustration but I don't think it is right to have a grind at the players," Thompson told Sportsound.
"They have given him everything this season. Paul Hanlon [who was described as "unprofessional" by Lennon for not having the right boots on] has been excellent this season, as have a number of other players.
"In this game it was do or die, and they didn't win it. You can understand his frustration in the heat of the moment... but it is too harsh on the players. They have over-achieved this season.
"He is a very emotional person and today, maybe he would be a bit more measured in what he is thinking. He has achieved so much, he has over-achieved. The fans have bought into him in a big way, they have bought season tickets, and for me it is a club on the up.
"It would be hard if they lost five or six top players, but you have got to have belief as a manager that you can go and recruit well and replace some of them.
"I think he is possibly hedging for a bigger budget. Does he want [Hibs chief executive] Leeann Dempster and the board to give him more money?"
'If we lose Neil Lennon, we are going back tha' way'
Former Hibs midfielder Paul Kane believes there are "underlying problems" between Lennon and the Hibs board, suggesting a board meeting next week may have prompted Lennon's outburst.
He urged the club to make every effort to keep the Northern Irishman, who arrived in June 2016.
"I think the club needs to be creative - either from outside investment, or from maybe someone on the board who gets £500,000 per year delaying that and putting it to one side for the manager," Kane told Sportsound.
"Because if we lose Neil Lennon, we are going back tha' way [backwards]. To not try hard enough to keep your manager is a sin in itself.
"Neil is the first manager Hibs have had in a long time who has won [Scottish] Premier Leagues, been in the last 16 of the Champions League, won cups as a player and manager.
"Where do you buy that experience from? If he goes out the door, you are going to have to replace that.
"I think he is the best fit to get Hibs through the next two or three years, to get them finishing second, because that is where he wants them to go, pushing on and trying to get in between Celtic."