Scott Bain: Celtic tie up on-loan goalkeeper on four-year deal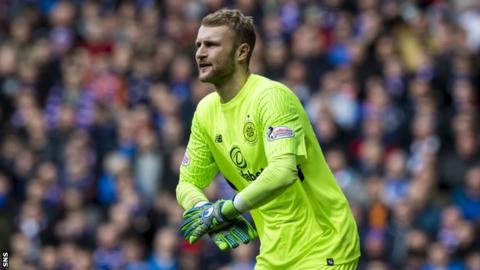 Celtic goalkeeper Scott Bain has signed a four-year contract to remain with the Scottish champions until 2022.
The 26-year-old arrived in Glasgow in late January via Hibernian, who had him on loan from Dundee, where he had fallen out with manager Neil McCann.
Signed as cover until the summer, Bain has now secured a long-term deal.
Bain had not played since late October when he made his Celtic debut in a 3-2 win at Rangers in March, and has subsequently started five more matches.
Rodgers indicated after Bain's debut that he wanted to keep the keeper at the club, saying "he can play in the style that we want and he has shown, in one of the biggest occasions, that he has the temperament to play for us".
"I'm delighted," Bain told Celtic TV after his new deal was revealed. "It's more than I obviously expected when I first came in. I'm over the moon.
"I don't think it could have gone any better. It's funny, there's a lot of little things that went my way to get to Celtic on loan and then to play the game against Rangers, which sent me on my way to this four-year-deal. It's been great and I've loved every minute of it."
'Old Firm debut showed I could handle being a Celtic player'
Bain was sent on loan by Dundee to Hibernian on 1 January but before he had played a game for the Edinburgh club, he was released from that loan 30 days later to join Celtic as cover for the injured Craig Gordon.
He finally got his chance to make his Celtic debut when Gordon's deputy, Dorus de Vries, also picked up an injury.
"That game showed the manager everything he needed to know," Bain added of the Rangers game. "He said after the game that it's one of the biggest games to play and it really showed him my mentality and that I could handle being a Celtic player.
"There are no small games and there are no easy games here. Everyone ups their game to play Celtic and you need to be on it 100% of the time, in games and training."