Wayne Rooney: The Premier League great unable to shake the underachiever tag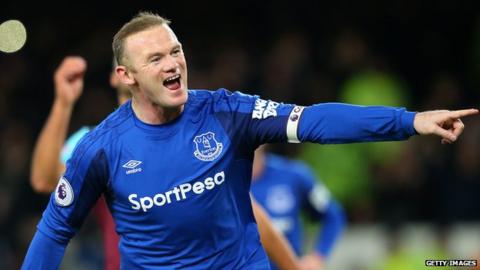 Wayne Rooney - if and when he completes his move from Everton to MLS side DC United - should be able to reflect on a magnificent career for Manchester United and England.
But, for some, he has never been able to shake the underachiever tag.
Rooney's return to Goodison Park after a trophy-laden 13-year stay at United has not provided the fairytale Premier League finale he desired.
His career is portrayed in some quarters as one of under-achievement, perhaps viewed through the prism of his emergence as a brilliant 16-year-old at Everton in 2002 and with England at Euro 2004 in Portugal.
He may not have reached the levels of greatness as a player which were expected back then - but countless footballers around the globe would love to 'under-achieve' in the same manner as Wayne Rooney.
At Manchester United he scored a club record 253 goals while winning five Premier League titles, the Champions League, Europa League, FA Cup and three League Cups.
He is also England's all-time record goalscorer with 53 goals in 119 games, eclipsing Sir Bobby Charlton in the record books both times.
These are the statistics that make a nonsense of any argument suggesting he was not a Premier League great. Rooney IS a Premier League great.
Rooney will have his England record dissected and there are undoubtedly flaws.
He often failed to produce at major tournaments - troubled by injury, loss of form or suspension - and he only scored his first goal at the World Cup showpiece against Uruguay in Brazil in 2014.
The counter-argument, a strong one, is that others regarded as greats such as Frank Lampard and Steven Gerrard were alongside him in the same England side that failed to end the barren years and yet they are never judged as harshly or have their contributions put into such sharp focus.
Rooney, it seemed, was always the victim of the expectations surrounding him. He was arguably England's best player at that World Cup in Brazil and also scored a crucial goal on his comeback following a ban when England beat hosts Ukraine 1-0 in Donetsk at Euro 2012 to get out of their group.
There have been troubles on and off the field at different times in his career - both with Manchester United and England - but he was almost always the first name on any England team-sheet for managers from Sven-Goran Eriksson to Roy Hodgson.
England's current manager Gareth Southgate, who finally left Rooney out of his team as his international career drew to a close, speaks with complete respect for his willingness to assume responsibility on and off the pitch with his country, often suggesting he almost took too much on.
This was the product of his in-built desire to lead and succeed.
If anyone wishes to question Rooney's contribution and whether he deserves the label of a Premier League great, the answer can be found by asking those who played with and against him as well as those who managed him and managed against him.
Rooney was always the name on their lips - mentioned with a mixture of respect and trepidation - and it was to his eternal credit, and a measure of his quality, that when Cristiano Ronaldo left Manchester United for Real Madrid in an £80m deal after the 2009 Champions League final loss to Barcelona, he not only accepted the mantle of greater responsibility but flourished.
He scored 34 goals in 44 appearances in the 2009-2010 season, driven to even greater heights of excellence by the knowledge that United relied upon him even more in the absence of the great Ronaldo.
Great Premier League moments? Rooney provided plenty of those but two have been iconic.
Rooney's first Premier League goal, a dipping, swerving last-minute winner past Arsenal and England keeper David Seaman from 30 yards for Everton as a 16-year-old on 19 October 2002 will be replayed as long as his name is mentioned.
And Manchester United supporters will recall the overhead kick he flashed past Manchester City keeper Joe Hart to score a 78th-minute derby winner at Old Trafford on 12 February 2011 with equal awe.
True, the Everton return has not been the victory lap he envisaged but Rooney still produced the moments of magic to illuminate a joyless season at Goodison Park.
The high point of Everton's campaign has arguably been the goal that completed his hat-trick in their 4-0 win against West Ham United in November, driven with perfect technique and timing from inside his own half, the unfortunate Hart once more the goalkeeping victim.
Rooney's final season in the Premier League, should it prove to be so, may have been low-key in comparison to the rest of his career but it was certainly not a failure. It is worth remembering he is Everton's leading scorer with 11 goals.
If he does make the move to Washington and the MLS, he will do so deservedly taking his place among the Premier League's greats.