Paul Pogba: French midfielder will be at Man Utd next season, says Jose Mourinho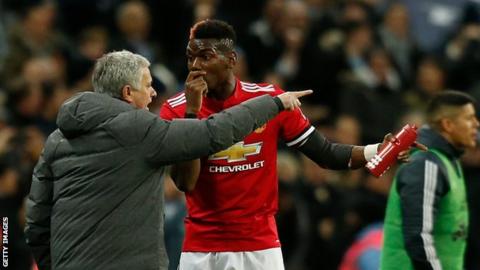 Manchester United boss Jose Mourinho says he has "a feeling" Paul Pogba will still be at Old Trafford next season.
French midfielder Pogba, 25, had been linked with a move away from the Premier League this season having fallen out of favour at United.
Mourinho also said there were players in his squad who are not up to United standards, but who he accepted would not be leaving the club.
"I think he's going to be here next season," Mourinho said of Pogba.
"That's my feeling."
Pogba - who joined United for a then-world record £89m in August 2016 - has scored six goals in 25 Premier League appearances this season, one more than his tally from the 2016-17 campaign.
But he has been left out of Mourinho's starting line-up for several key fixtures this season, including both legs of United's Champions League last-16 defeat by Sevilla.
"I can give the guarantee that I don't want him to leave, that the club doesn't want to sell him, and I can give you the guarantee that we don't have any approach from him or his agent or from any club," Mourinho added.
"In this moment, for me, he's staying, yes."
'I trust some more than others'
With two games remaining of the Premier League season, United are second, 20 points adrift of champions and neighbours Manchester City.
Mourinho says his players need to be "more consistent" on the pitch, adding he wanted to see "more quality" at the club next season if they are to narrow the deficit.
"I trust some more than others that can bridge that gap. Some of the players I am totally convinced are going to make it, some others I have good hopes that they are going to make it, and some others I don't believe they are going to make it," he said.
"Unless there is a perfect squad, where if you buy one goalkeeper you don't like, you buy another one. You buy a central defender you don't like, you buy another one. Unless you can do that, you have to keep players you don't love - when I say love, I say it 'footballistically' - and players you don't totally believe have the level of the squad.
"If you go to the Premier League managers, I don't say every one, but I say the majority of them will tell you the same. In my squad, I have some players where I would like to have better than what I have. That's basic."