Leon Britton: Farewell to a Swansea legend
By Chris Wathan
BBC Sport Wales
Last updated on .From the section Swansea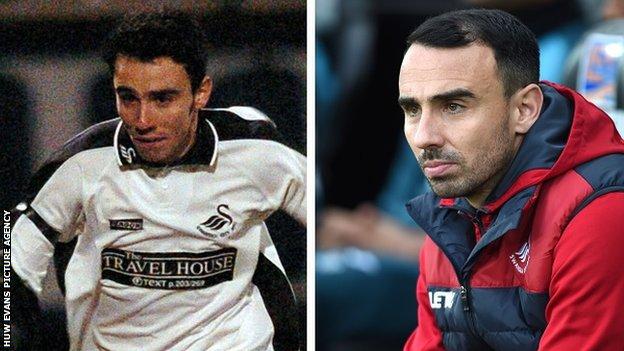 As Swansea City prepare to lose their Premier League status, they have been accused of losing their identity, their 'Swansea Way'.
Now they face up to losing the player who represented it - Leon Britton.
"Swansea's always been renowned as a club for the quality of its football," the club's former manager Brendan Rodgers told BBC Sport Wales.
"This was a guy who came in at League Two and worked his way to the very top of the game.
"Five foot five, but he was a giant in what he gave the team and made others around him better players.
"His whole journey and style of play makes him synonymous with Swansea City and their rise to the top."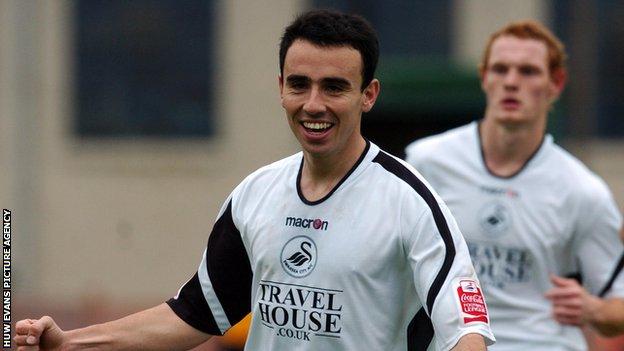 In spirit, style and story, Britton symbolised all that was so romantically right about Swansea from the first moment he arrived in south Wales.
The Lilleshall graduate has admitted to neither looking at the league table nor a map when agreeing to join Brian Flynn's Swans on loan from Premier League West Ham in December 2002.
The teenager wondered what he had agreed to when, four hours later and only just passing Port Talbot, he arrived at a club at the bottom of the Football League.
He found a squad as ramshackle as the club it represented, who would take a convoy of cars - muddy boots and all - to find a place to train, sometimes sneaking under fences.
But a desire to play fuelled his move, as did a collection from the club's Supporters Trust, pounds thrown into buckets passed along the old Vetch Field's North Bank in a campaign dubbed 'The Battle for Britton'.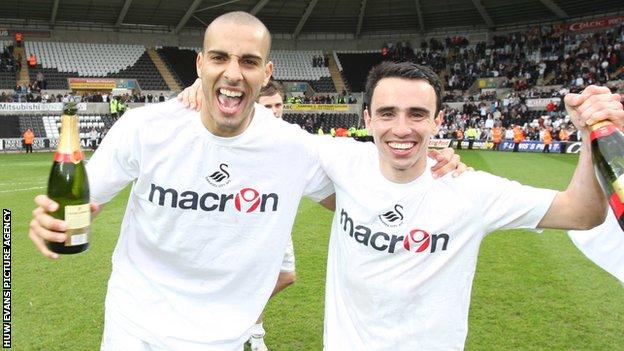 The midfielder, then more of a tricky, darting player than the passing metronome he became, took no time at all to repay the debt.
Britton was named player of the season after just five months as he helped avoid relegation from the Football League on the final day with a 4-2 win over Hull City, a game in which he won a penalty.
Signing permanently soon after, the diminutive Londoner has only grown in stature and significance as a Swan.
As former roommate Roberto Martinez started the 'Swanselona' revolution at the club's new Liberty Stadium home, Britton was at the heartbeat of the transformation.
Save for a six-month spell at Sheffield United before Rodgers astutely brought the adopted Londoner 'home', the player dubbed too small to make it at the highest level played a big part, as Swansea continued to defy critics by passing their way to the Premier League.
"His courage, his quality, his link play was just incredible and he went on to play a pivotal role when I was there," adds Rodgers, who guided Swansea to the Premier League in 2011.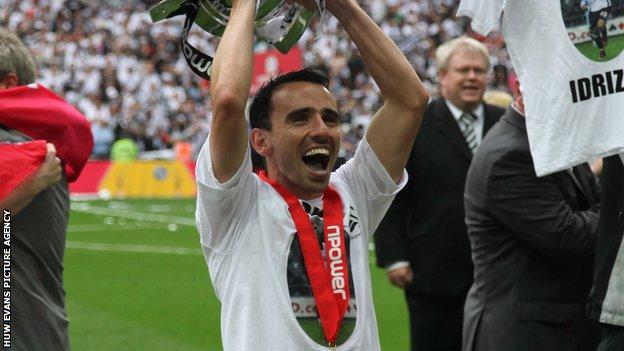 At one stage, statisticians crowned Britton the best passer in Europe. Calls for international recognition followed, though England ultimately overlooked a player of an ability to control play from the base of midfield that many believe they did not possess.
He had a class combined with a fighting spirit born out of those lower league battles. As such, Britton became the figurehead of Swansea's unwillingness to move from the direction that had brought him and them three promotions, a League Cup triumph and a run to the knock-out stages of the Europa League. It was the Swansea Way.
When it found obstacles, and Britton found himself out of the team, he was still an inspiration. Boasting a connection to the city and fan base through their shared history, his mere presence seemed to have a galvanising effect.
Having been frozen out under Paul Clement, the then club captain returned to the side and cajoled players by showing videos of the club's history and goading them to avoid relegation in the final stages of last season.
After a spell as player-coach, then as caretaker manager for two games, Britton has been kept in reserve this season, Swansea seemingly unable to escape a first relegation since he joined two grounds, 11 managers and 535 appearances ago.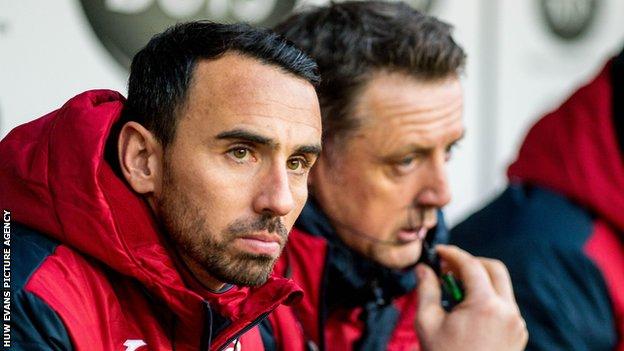 "I think his history with the club is very special," said current Celtic manager Rodgers. "He conducts himself with great humility, great professionalism, and that's a tribute to the Swansea Way also.
"And I just think a fit Leon Britton from a few years ago would be so pivotal to the team now. Unfortunately you get to an age where the body just can't carry you anymore."
The club's potential drop would be an unfitting end to his playing days, and yet perhaps wrapped neatly in the narrative of Swansea losing their way and the player who helped them find it in the first place.
"If there is one player who has epitomised what Swansea City is all about in the last 12 years, it is Leon Britton," club legend Alan Curtis said in 2016.
For while the club of Ivor Allchurch, Cliff Jones and Curtis may be able to lay claim to having boasted greater players, it is hard to argue there has been a more influential one than Leon Britton, Swansea City's symbolic son.