David Moyes: West Ham manager says he turned down a Premier League rival this season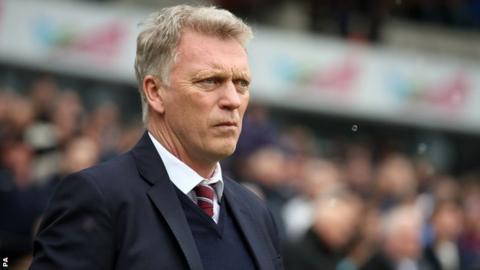 Manager David Moyes says he has turned down an offer from a Premier League rival during his time at West Ham.
Moyes, 55, replaced Slaven Bilic in November and has led the Hammers to Premier League safety but is yet to sign a new contract at the club.
"I could have joined a Premier League club during the season here, when I was West Ham manager," he said.
"I chose not to. But I've got other things if it's not renewed. It's not a problem."
It is not clear which club Moyes was referring to but West Brom, Swansea, Stoke, Watford and Southampton have sacked their manager since Moyes took charge of West Ham.
The Scot took over from Bilic with the club in 18th place with nine points from 11 games.
The Hammers have claimed 29 points from 25 games under Moyes and are now 15th, five points clear of the relegation zone.
"I think my record, the amount of games I've had, the amount of wins I've got, probably apart from two or three managers there's nobody who's got a better win ratio," Moyes said.
"We have always said we will talk after the end of the season so we will wait until then.
"It's always the way I wanted it and I won't change my views until we get the last two games out of the way.
"We are putting things in place, like pre-season, as much as we can, but ultimately I have got a decision to make and the club has as well."
West Ham host Manchester United on Thursday, kick-off 19:45 BST.