Leeds United Myanmar tour: Questions still surround controversial trip after opening defeat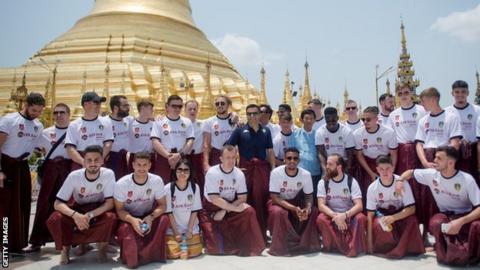 Leeds United began their controversial tour of Myanmar on Wednesday, losing 2-1 to the hosts' National League All Stars in Yangon.
The post-season trip, which has been described as "morally corrupt" and "deeply inappropriate", continues to divide opinion because of the treatment of Myanmar's Rohingya Muslim minority.
The situation - said to be the world's fastest growing refugee crisis - has cast an enormous shadow over the tour, yet a small handful of Leeds fans have made the trip to watch their team.
Here, BBC Sport speaks to some of those fans and gets the thoughts of our reporter in Yangon.
A bad decision vs. nothing to do with politics - what they say
Leeds fans in Yangon - around 50 are believed to have made the trip - were asked for their views on the tour:
Paul Ulla: "It is nothing to do with politics. We have brought many scarves and badges and we are just going to give them to people. The trouble is far away from where we are going. I understand they have their troubles, but it is not about the troubles, it is about sport."
Sean Tierney: "Leeds owner Andrea Radrizzani does his business out here and he pays the wages. It is good news for the area, keep politics out of football. It has nothing to do with football whatsoever. Spread the word of football and it is good for everyone. We never had a second thought."
Simon Gilbert: "I think it was a bad decision in terms of the public relations for the club under the current circumstances. As a fan, it does not make a lot of difference if we are here - there are only a few of us, but for the team it would have made some difference if they had refused to come, although I think the significance of Leeds' visit has been exaggerated. Leicester were here a couple of years ago when they won the title and nobody really batted an eye lid."
Pete Southam: "I have not missed a trip for about 20 years, but I did think about this one. I know what is happening, but that is politics and this is sport - do you mix them or don't you? It is always difficult that one, but I wouldn't have missed it. I think it will be pretty good for the club in the long run as it is pretty unexposed football-wise. The country is getting better and I think things like this will help the government put a better face on things. Sport should be kept out of politics."
Why is the tour controversial?
Nearly 700,000 of Myanmar's Rohingya Muslim minority have fled the country since August because of ongoing military operations in Rakhine.
Myanmar's government, which does not give the Rohingya citizenship and sees them as illegal immigrants from Bangladesh, says it is fighting militants and has denied targeting civilians.
The United Nations described the issues in the northern Rakhine province as a "textbook example of ethnic cleansing".
Current Foreign and Commonwealth Office advice says to "check travel advice before travelling" to Myanmar but advises against "all but essential travel" in some other areas of the country.
The club's Supporters' Trust said the tour was a "strange and controversial choice".
Shadow sports minister Dr Rosena Allin-Khan called the trip "morally corrupt".
However, Radrizzani said he believes the trip can "have a positive impact on the local community".
Leeds' five MPs - Rachel Reeves, Hilary Benn, Richard Burgon, Fabian Hamilton and Alex Sobel - asked the club to reconsider the decision.
Leicester City visited the country in May 2016 after winning the Premier League title but did not play any matches.
The long-term benefit or damage will only be assessed in the days and weeks to come - analysis
Nick Beake, BBC Myanmar correspondent in Yangon
It was the warmest of welcomes at Yangon airport yesterday. A curious scene though - we watched as a group of Buddhist monks in their saffron colour robes came through arrivals just ahead of the blue and the yellow of the Leeds team.
The players were met by a line of local women from the sponsors who draped garlands of flowers around their necks. That is obviously a contrast to the anger the team left behind.
Certainly the locals here see this as a chance to watch an English football team they would only normally get to see on TV.
As the players filed past at the airport I asked if they were pleased to be here and if they had second thoughts or concerns about the trip, and they remained pretty much tight-lipped.
The owner clearly sees opportunities here. The long-term benefit or damage will be assessed in the days and weeks to come.
Myanmar National League All Stars 2-1 Leeds United - the match
Leeds played a largely youthful side, in temperatures of around 36C, just 24 hours after arriving in the country.
Veteran goalkeeper Andy Lonergan and Spanish midfielder Samuel Saiz were the most experienced players on show at Thuwanna Football Stadium.
Joseph Mpande put the home side ahead after 22 minutes with a close-range header only for captain Saiz to level for Leeds with a penalty four minutes later.
Following a raft of second-half changes, the home side regained the lead as Christopher converted from the penalty spot four minutes after the hour mark following a foul by substitute Paudie O'Connor.
Leeds almost found another instant response only for Ryan Edmondson's strike to be ruled out for a marginal offside just three minutes later.
The visitors pushed for an equaliser in the closing stages, but in front of a crowd of around 20,000, failed to find the breakthrough for a second time.
Leeds complete their two-match tour against the Myanmar national team in Mandalay on Friday.