Antoine Griezmann: Atletico Madrid 'fed up' with Barcelona's pursuit of striker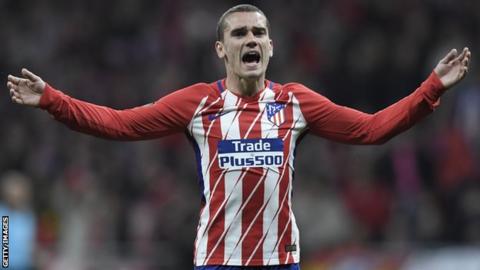 Atletico Madrid are "fed up" with Barcelona over their pursuit of striker Antoine Griezmann, and have demanded respect from the La Liga champions.
Speaking on Monday, Barcelona president Josep Maria Bartomeu said he met with Griezmann's agent earlier this season.
Atletico reported Barcelona to Fifa over an alleged illegal approach for the France forward, 27, in December.
"We're fed up with Barcelona's attitude," said Atletico chief executive Miguel Angel Gil Marin.
Marin added that Bartomeu's comments about Griezmann in the build-up to the Europa League final between Atletico and Marseille on 16 May showed an "absolute lack of respect".
He also accused Barcelona of "continuously pressuring" Griezmann throughout the season and said he told Bartomeu several months ago his "inappropriate conduct was against the integrity" of La Liga, given both sides were competing for the title.
Barcelona secured the title with victory over Deportivo La Coruna last month and are now three games away from going the entire league season undefeated, while Atletico are currently second.
In January, Barcelona "strongly denied" claims they had agreed a deal to sign Griezmann, who is under contract until 2022, this summer.
"Atletico Madrid's stance is very clear and has been made public on numerous occasions - not once have we negotiated for Griezmann nor do we have any intention to do so," said Marin.
He added he had warned Bartomeu that Atletico would demand compensation for Barcelona's "inappropriate behaviour" if Griezmann sought to cancel his contract under pressure from the Catalan side.