Yaya Toure will stay in the Premier League after leaving Man City
Last updated on .From the section Man City
Yaya Toure says he intends to play for another two years in the Premier League after he has left Manchester City.
After eight years, Toure, 34, ends his City career at home to Brighton on Wednesday.
With three Premier League titles, two EFL Cups and the 2011 FA Cup, when he scored the only goal in both the semi-final and the final, he has confirmed his status as a club legend.
However, he is likely to be lining up against City next season.
Asked if he was going to stay in England, the Ivorian said: "Yes. Definitely.
"I love the challenge and the difficulty. Some fans were asking 'are you retiring?' I said no. I have, maybe, two more years at a high level."
The big gamble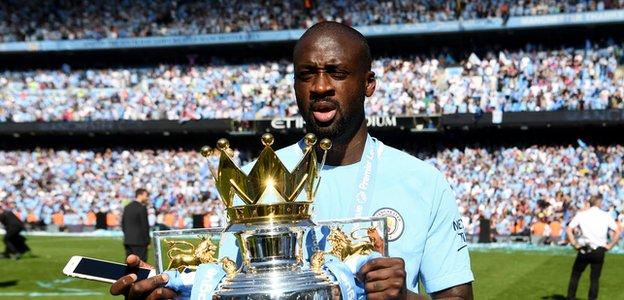 Toure was part of the all-conquering Barcelona squad that won the domestic league and cup double and beat Manchester United in the Champions League final in 2009.
Twelve months later, he left the Nou Camp for City in a £28m deal.
Even his wife Gibena questioned the wisdom of the transfer.
He said: "She said it was a big gamble and asked me how I could do it because Barcelona was at a high level and City were down there.
"I remember City were trying to get other players like Kaka but none of them were willing to come.
"They would go to United. Great. City. No. I had been at successful clubs. Olympiakos, Monaco, Barcelona. When you go to the museums there you can see all the older players.
"I asked if City had such a place. I went and looked but I didn't know any of them."
Starting to believe
City's fortunes have changed dramatically since those days.
The catalyst, according to Toure, was the FA Cup win in his first season, when Manchester United were defeated in the semi-final before Stoke were overcome in the final.
It was City's first trophy in 35 years.
Better was to follow 12 months later, when the Blues ended their 44-year wait for a league title thanks to Sergio Aguero's dramatic injury-time winner.
Toure was replaced just before half-time with a hamstring injury, having scored a crucial winner at Newcastle the previous week that allowed City to remain in charge of their own destiny.
He said: "Before we started to win trophies, the fans only thought bad things. They were always hiding because United were above them.
"After those first trophies they could say 'we are coming'. They started to believe in us."
Proving the critics wrong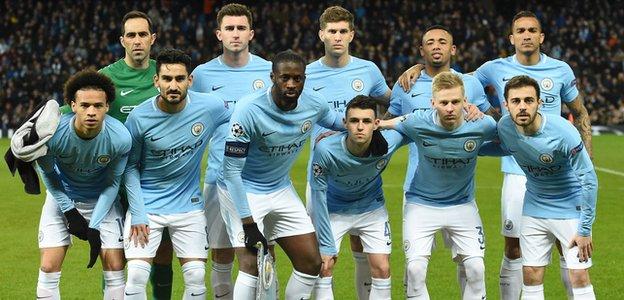 There were many who greeted Toure's arrival in England with scorn, believing the only reason he had left a club of Barcelona's stature was money.
Six major trophies, 314 appearances and 82 goals is an emphatic answer to the critics.
He said: "I always loved to prove people wrong. I was put under a lot of pressure, as Paul Pogba, who has similar characteristics to me, is now.
"I believe Pogba will become the perfect player. And if they are honest, the people who said things about me will say they were wrong."
Perfect day
Twelve months ago, Toure's long-time team-mate Pablo Zabaleta was in tears when he said farewell to City.
Toure does not expect to cry on Wednesday, even though he admits to being emotional.
He prefers to look back with satisfaction on a job well done.
And he has one more target. He wants a goal against Brighton.
He said: "I will start shooting from the dressing room. I will do everything because it is my last game, in front of my fans, in my stadium.
"I want it to be perfect."