Hearts v Hibernian: Brandon Barker eyes further growth at Easter Road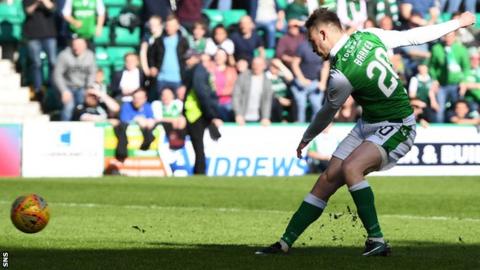 Brandon Barker insists he would "love" to return to Hibernian next term, but concedes parent club Manchester City will decide his next steps.
The winger, 21, joined Hibs on a season-long loan in August, amassing 28 appearances for Neil Lennon's side.
He has two years remaining on his deal with the English champions, and expects to be sent out on loan again next term.
"My parent club are in charge of me and I just don't know," England Under-20 cap Barker said of his future.
"I think I'll probably go back on loan somewhere but I'm not sure, I haven't really spoken to my club, my agent, and what the plan is for me.
"I'd love to come back - it's a great club, great philosophy, it suits the way I play. But again, it's City's choice and I've got to back them, and hopefully it can be the right choice so I can develop.
"I've got to basically obey what they do and I'll trust them in the process to make me develop even more."
Barker says his season at Easter Road has been of great benefit, and admits he was surprised by the standard of Hibs' East Mains training centre and the quality of Scottish football.
"As soon as I drove through the gates [of the training centre], it was really eye-opening," Barker added. "I didn't expect it - I'm not going to lie.
"The facilities are unbelievable, especially for a young player trying to develop and get games. Our team is a bit mixed, some young players, some old, and I think it's good for a young player like me trying to learn. Some people here have had unbelievable experiences in the game.
"All Scottish football, I've never gone into a game where I've thought, 'we're definitely going to win today', it's been really difficult. Look at the likes of Kilmarnock, who have just switched it around like that. There are top teams in Scotland I think people do need to open their eyes and realise that."
'The boys here are all tough mentally'
Hibs face Edinburgh rivals Hearts on Wednesday in their penultimate league fixture as they bid to keep their push for a second-place Scottish Premiership finish on track.
Neil Lennon's side trail Aberdeen, who currently occupy the runners-up spot, by four points, and third-placed Rangers by three.
Hibs host Rangers on Sunday, while Aberdeen face a trip to Celtic Park.
"Last year I was playing in Holland [for NAC Breda], we were fighting for promotion, we had to do it through the play-offs, so I've been in must-win games," Barker said. "It just gives us that extra motivation.
"The boys here are all tough mentally. This is the biggest game I've played in. We're going to go into that game, hopefully get the three points, and if we're really serious about finishing second, we have to win and put our marker down.
"I don't think any of the boys fear any games. I wouldn't say we're a better side than both of them [Aberdeen and Rangers] - that's not for me to say and that's disrespectful.
"This year, we've gone toe-to-toe with all the top four. I don't think any other side can say they're better than us, apart from Celtic.
"Hearts are a long way behind us, but just for the pride, and they won't want us to finish second. We're the underdogs, and we'll keep it that way, we'll be the quiet ones and hopefully we can steal second spot."