Hearts: Craig Levein tells Brendan Rodgers he can 'bleat all he wants' on pitch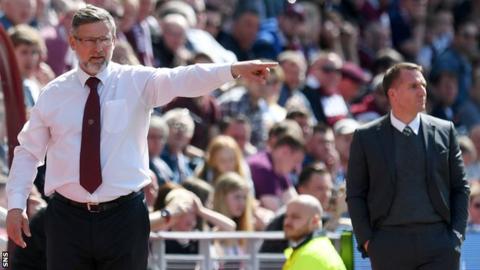 Hearts manager Craig Levein said Brendan Rodgers can "bleat all he wants" about the Tynecastle pitch but it will not change his club's approach.
Celtic boss Rodgers said he was "embarrassed" about the length of the grass following Sunday's 3-1 victory in Edinburgh.
"I would have hated to see the fury and the froth if they had lost the game," Levein said.
"He can moan [but] it will be the same again next season."
Following the game, Rodgers said he had told his team at half-time to stop playing out from the back and instead hit more long balls forward.
Levein retorted that the condition of the Tynecastle pitch is designed to suit the home side, not the visitors.
"I sat with Brendan for 20 minutes after the game and he never mentioned it," Levein said.
"If we want to talk about a level playing field, if they bring a team through here that earn the same money as our players do, then we will put them out on the pitch and see who wins.
"There is not a level playing field in Scotland and I make no apologies for staying within the rules and trying to win the game. None at all.
"As long as we stay within the rules, then I don't know what he's bleating about. Celtic prepare their pitch the way they want it. It's all a nonsense really."
Hearts will spend almost £1m on a new hybrid pitch during the summer but Levein warned Rodgers not to expect the grass to be any different on his next visit.
"We'll just let it grow," he said.
Levein also confirmed Hearts would challenge any potential ban for Steven Naismith for his tackle on Celtic captain Scott Brown.
On Sunday, Rodgers described the challenge as "shocking", adding: "The ball was well gone and it wasn't just late, it was very late.
"It will be just interesting to see what the authorities make of that."