Consortium 'agree' deal to buy club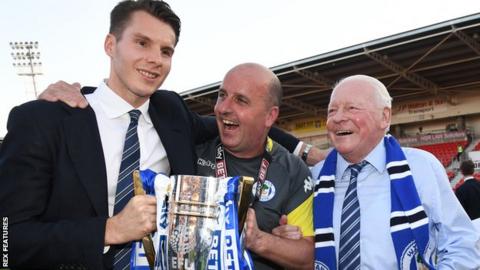 The Whelan family is understood to have agreed a deal in principle to sell their majority stake in League One champions Wigan Athletic to a Hong Kong-based consortium.
The proposed takeover by International Entertainment Corporation is subject to Hong Kong Stock Exchange and EFL approval.
The Whelan family has been majority shareholders since 1995, overseeing the Latics' FA Cup triumph in 2013.
The deal with IEC would also include a majority shareholding in the DW Stadium, as well as the club's training grounds at Christopher Park and Euxton.
Wigan secured an immediate return to the Championship this season, picking up the League One title for the second time in three campaigns.
They also knocked out Premier League champions Manchester City in the FA Cup fifth round with a 1-0 home win in February.
Analysis
BBC Sport's Simon Stone
Interesting times ahead for Wigan.
A provincial club, driven to heights it could never have imagined by local businessman Dave Whelan, is now being transferred into the hands of owners from Hong Kong few fans will have a clue about.
The worry will be that many similar deals - Blackburn Rovers being a prime example - have gone disastrously wrong.
However, with average gates hovering around 10,000, the brutal truth is Wigan cannot hope to compete in the Championship, let alone get back to the top flight, without some kind of outside investment.
The big question surrounds the International Entertainment Corporation. Namely, what's in it for them?